Horrific pro-Trump 'coup' at US Capitol spurs Twitter, FB to freeze POTUS speech
Thu 07 Jan 2021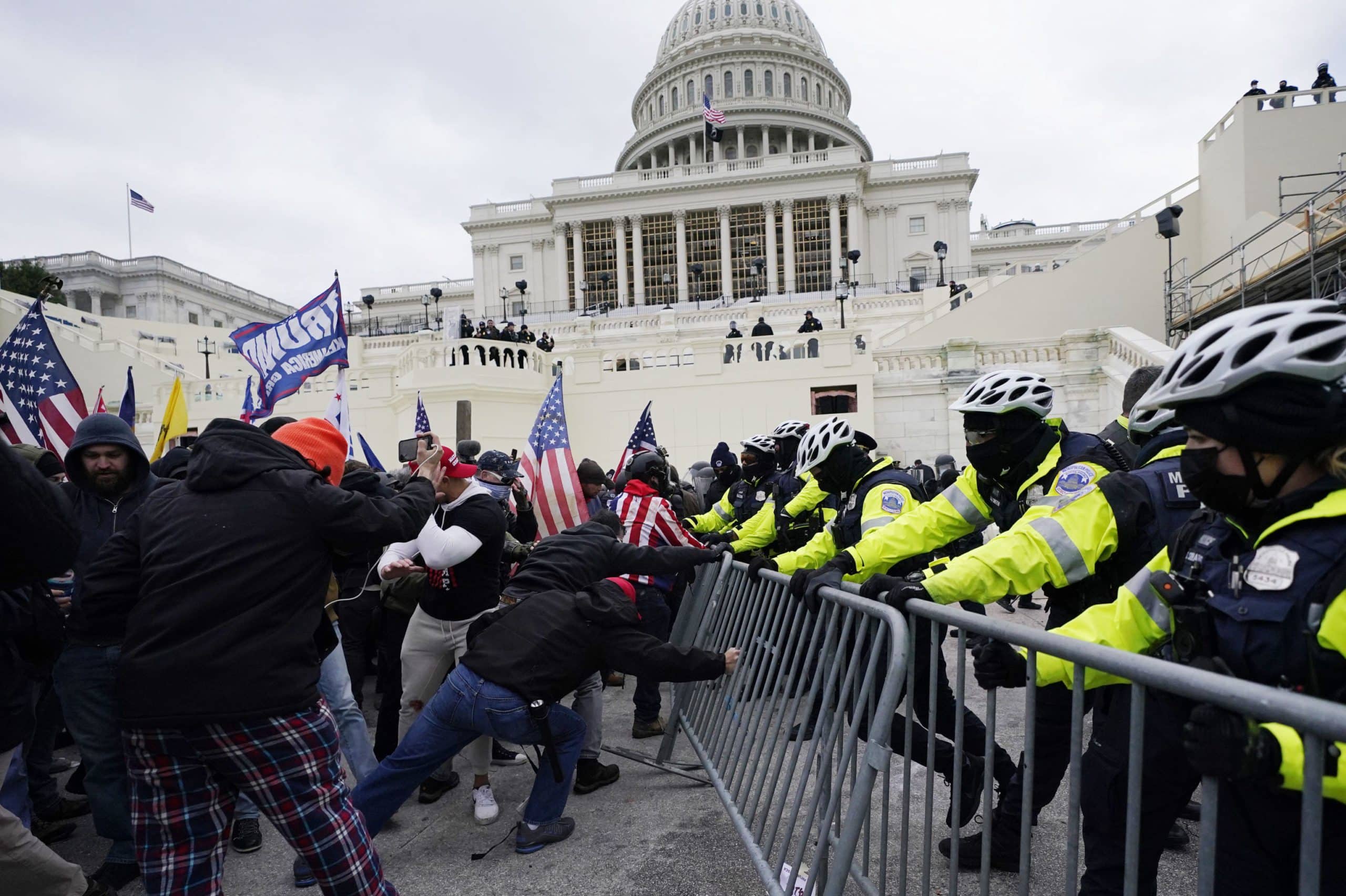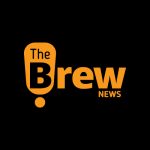 Brew Admin
|
4
min read
Social media giants rose as one Wednesday to collectively bar U.S President Donald Trump's incendiary speech on Facebook, Twitter and YouTube in the wake of the armed 'supporter' riots that stunned the country as lawmakers moved ahead to affirm President-elect Biden's electoral win at the country's Capitol.
Hundreds of pro-Trump protesters pushed through barriers set up along the perimeter of Washington D.C's iconic landmark, where they tussled with officers in full riot gear, some calling them "traitors" for doing their jobs.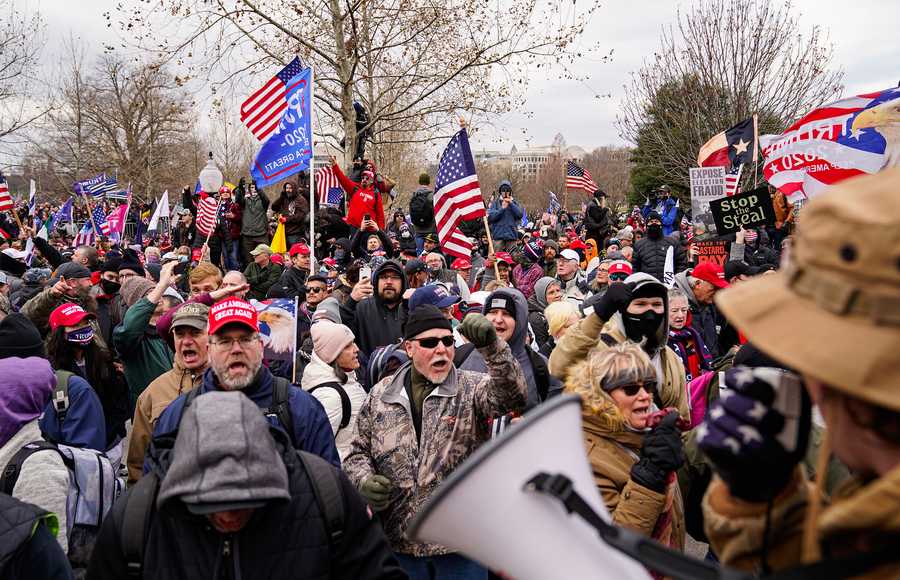 The clash escalated to demonstrators sneaking into the building and swift orders for evacuation of House and Senate were thus issued. Vice President Mike Pence was also evacuated from the chamber where he was to perform his Trump-shamed role in the counting of electoral votes.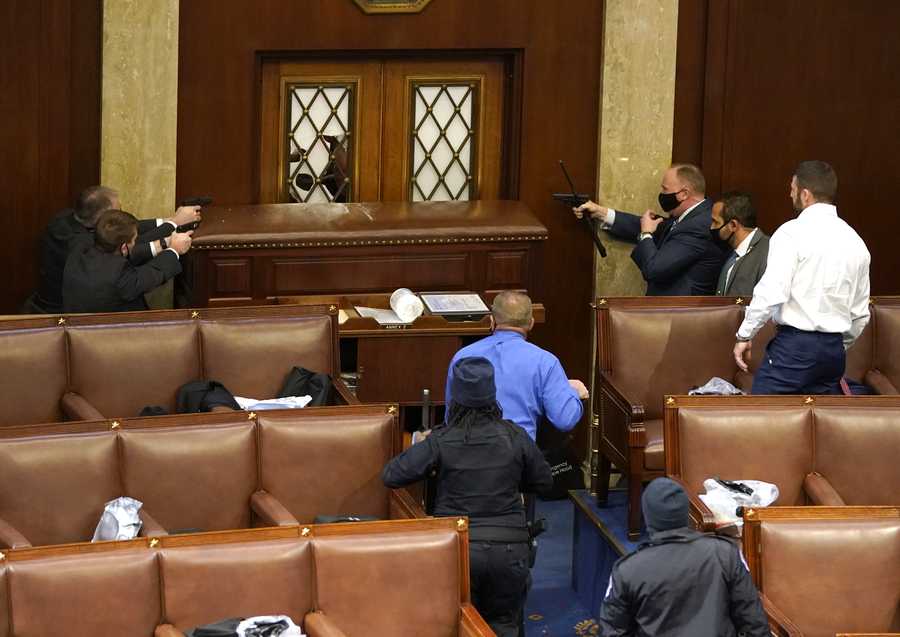 Facebook and YouTube each removed President Trump's video from earlier in the afternoon addressing his supporters, according to company spokesmen. In the video, Trump had urged Capitol rioters to "go home" but struck a sympathetic tone and reiterated his debunked claims of election fraud.
"This is an emergency situation", said Guy Rosen, Facebook's VP of integrity, sounding the alarm on the risk of the content contributing to the "ongoing violence."
Twitter however, did not remove the video. But as of Wednesday afternoon, the social network did move to restrict engagement with tweets by Trump and others that have been labeled "due to a risk of violence."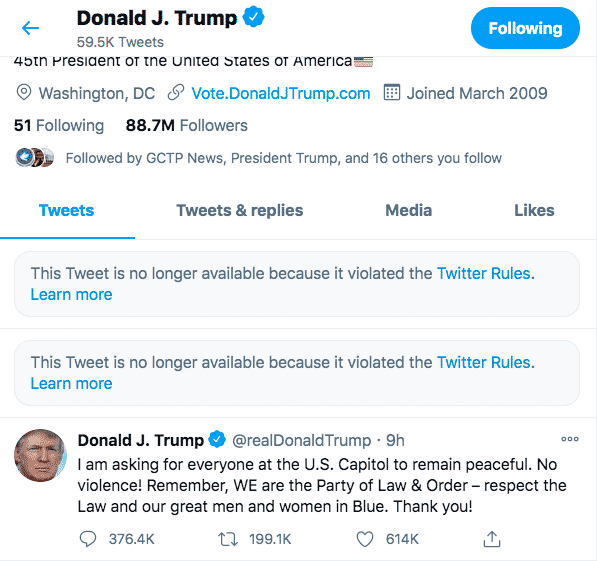 Twitter has locked the incumbent's account until further notice unless he takes down the rule-violating tweets of his own accord.
Likes and replies have also been disabled on Trump's tweet that claimed Vice President Mike Pence "didn't have the courage to do what should have been done." Retweets of the tweet have been restricted, prompting users to add a comment rather than simply amplifying Trump's remarks.
Those same restrictions were also applied to the video to Trump's supporters.
"In regard to the ongoing situation in Washington, D.C., we are working proactively to protect the health of the public conversation occurring on the service and will take action on any content that violates the Twitter Rules," Twitter said.
"Threats of and calls to violence are against the Twitter Rules, and we are enforcing our policies accordingly. In addition, we have been significantly restricting engagement with Tweets labeled under our Civic Integrity Policy due to the risk of violence. This means these labeled Tweets will not be able to be replied to, Retweeted, or liked."
Twitter is still considering other "escalated enforcement actions," it added.
Facebook also moved to condemn the riots at the US Capitol on Wednesday, but stopped short of saying Trump would be blocked from the social media platform.
The platforms have faced growing calls these past months to suspend President Donald Trump's social media accounts, which peaked to a crescendo following the riots. The hashtag #LockHimUpNow has hit trending in less than 12 hours, racking up close to 41,000 hits and counting.
The Anti-Defamation League issued a statement accusing Trump of promoting sedition and inciting violence.
"President Trump has a responsibility to call for an end to this violence and unrest that he has sowed. His campaign of disinformation is a clear and present danger to our democracy," said ADL CEO Jonathan Greenblatt. "But until such time as that happens, social media companies should suspend his accounts ASAP as they would do for anyone else advocating disinformation and promoting violence. It's time."
Jessica Gonzalez, co-CEO of Free Press, an advocacy group, tweeted that the major platforms, including Facebook, Twitter, YouTube and TikTok, face "another inflection point here."
Facebook did not respond to multiple requests for comment on whether it would take action beyond the 24 hour suspension on Trump's account.
The companies have applied contextual labels to Trump's posts in recent days, but since the November election it has become increasingly clear that the labels are inadequate to the task.
While the Capitol has once again been "secured" the Washington D.C mayor Muriel Bowser has declared a 15-days emergency until further notice fearing the risk on public lives amid the "destructive and riotous" descent on the streets.
One woman — unidentified for now — died after being was shot in the chest in an armed standoff on Capitol grounds. Three other people have also been reported dead due to medical emergencies during the riot.
The riots came mere hours after Democrats won the Senate after Jon Osoff and Rev. Raphael Warnock emerged victorious at the runoffs in the sought-after state of Georgia.
With the twin victories securing a 50-50 tie in the Senate and Vice President-elect Kamala Harris's tie-breaking vote, the Senate control has effectively passed to the Democrats.
Warnock will be Georgia's first Black senator while Ossoff will be Georgia's first Jewish senator — both men making history.
[Sourced from Agencies]
---