Big Fat Indian Wedding: Father married in the air 29 years before and created a world record, now daughter will marry in the sky
Mon 18 Sep 2023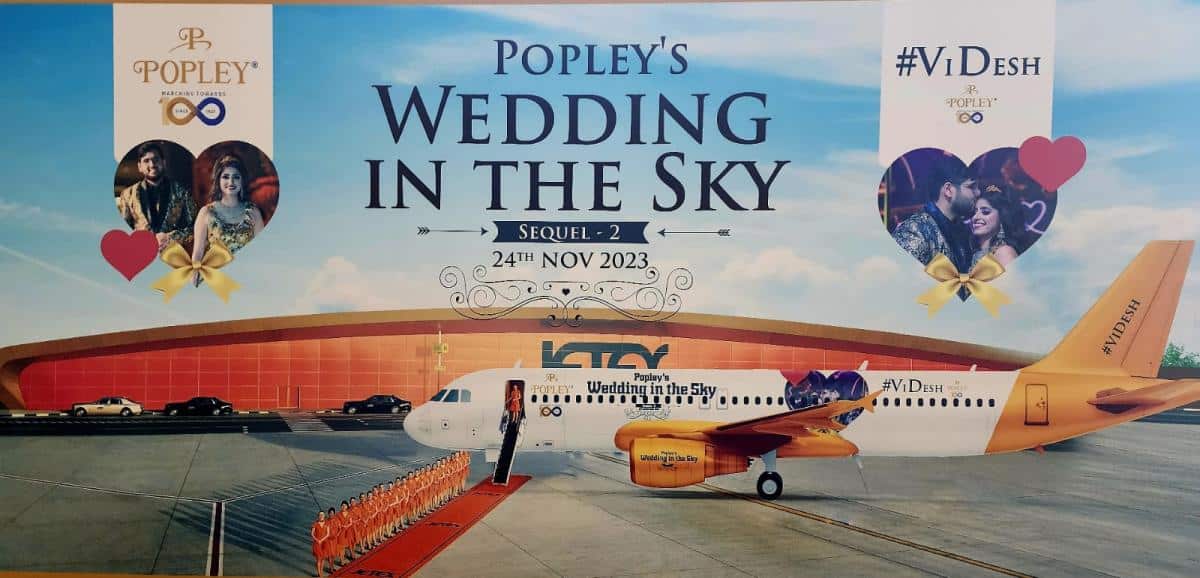 |
2
min read
Dubai: A big fat Indian wedding always attracts attention, and when it is going to be in the air with 300 guests including Bollywood, and Hollywood A-listers, it is going to be a unique idea of wedding. Dubai is known for extravagant weddings which is redefining the luxury and limitless approach towards the quality and cost.
Popleys, a renowned name established in 1927 in the jewelry business in UAE (1993) and INDIA (1927) is gearing up for a momentous celebration of his daughter's wedding with the support of Govt. of Dubai which makes this event truly extraordinary. On October 18th, 1994, a similar event occurred, when Dilip Popley, the bride's father's marriage was conducted in the air in an Air India plane and created a world record, now Sequel 2 is celebrated on 24th Nov 2023.
Talking to the media Dilip Popley said, they plan to transform the azure Dubai skies into a celestial backdrop for this momentous occasion, as the world's largest private jet will depart from the flagship Jetex Dubai private terminal. Called the queen of skies, the Boeing 747, which has a capacity of 450 passengers, has been modified to make space to perform the wedding rites inside the aircraft. Aircraft with around 300 guests will take off from Dubai and fly to Oman for the 3-hour 'in the sky' ceremony.
During the 3-hour journey wedding, the groom, Hridesh, and bride, Vidhi, will exchange their vows inside the plane in the presence of 300 guests including family members, Bollywood and Hollywood celebrities, dignitaries, and friends. Marriage will be conducted according to Sikh traditions and rites.
Dilip Popley said that "my marriage in the air was my dad's idea, which started from a lighter note. It was my dad's dream, who wanted to get his son married in the air. We met the chairman of Air India and had a wedding in the sky in 1994. Now I am carrying his dream to another level." "I am hoping, for my son's marriage, technology will allow us to do something bigger, such as marriage in the space." – Dilip added
The wedding will be attended by 1000 guests. It will be a long function of many weeks including Sangeet, Mehndi, and Pheras. As Agni-Phera is not possible on board, that will be performed on the ground on marriage day.
Wedding planner Chimoo Acharaya, who is taking care of this occasion informed that it took 12 months to complete all the permissions and formalities. More than 1,000 guests will participate in this marriage including close family, friends, and dignitaries, who will share in this breathtaking experience with Habtoor Palace Dubai, LXR Hotels & Resorts, Dubai. This wedding promises to be a remarkable blend of tradition, luxury, and innovation.
"Sky is the limit to spending for weddings in Dubai, It all depends on the number of people and the budget of the family. Weddings such as Popley's cost around Dh6-7 million." – Chimoo added
This wedding will be sent as an entry to be in the Guinness World Record as it is the first of its kind wedding taking place in the sky in this region. The event will feature Indian traditions and values with elegance. In the past, Dubai hosted many big fat South Asian weddings with high-profile businessmen, Bollywood, and TV stars. 
---