A Slice of Paradise in Morocco: Mazagan Beach & Golf Resort
Sat 28 Oct 2023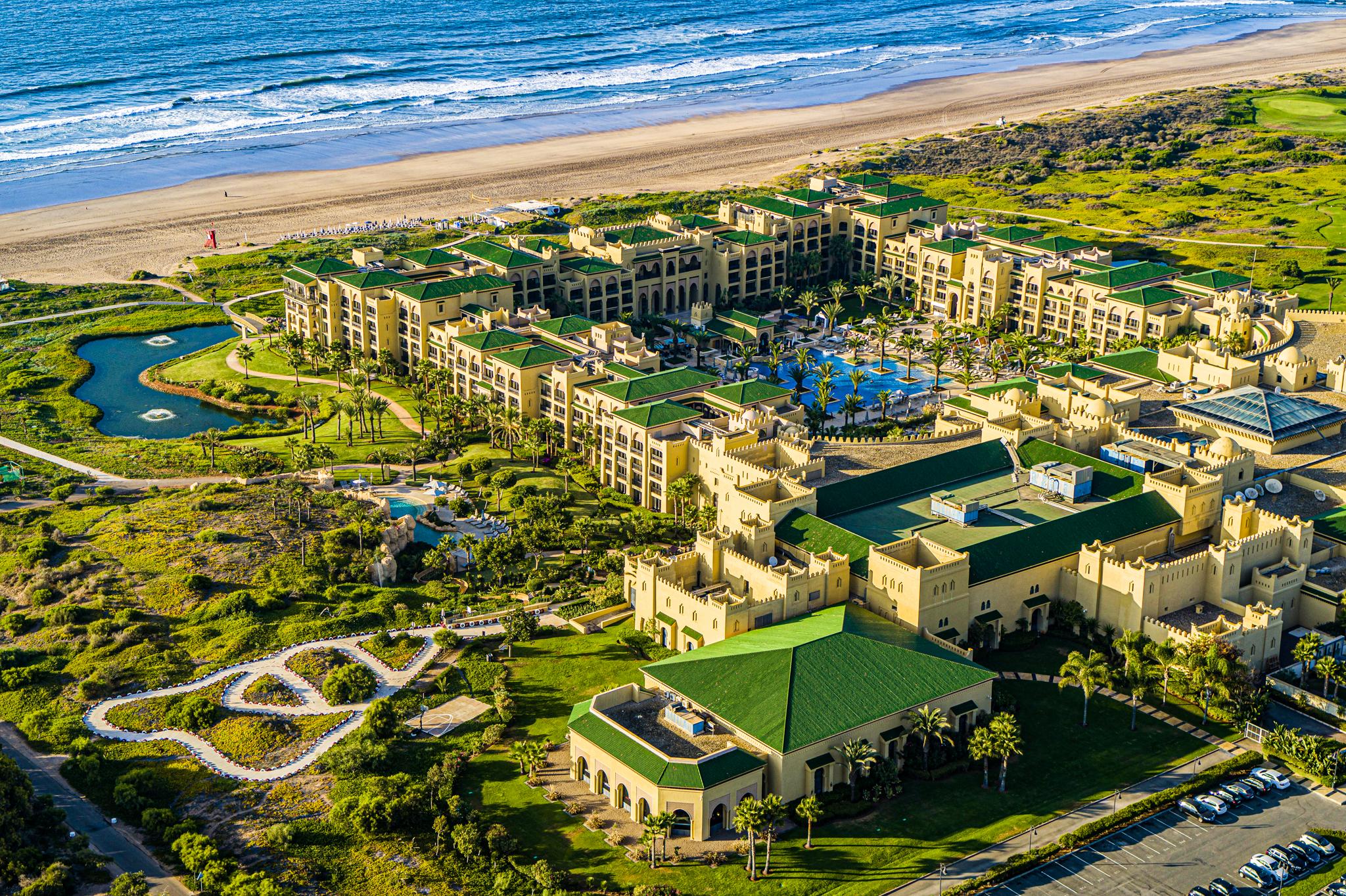 |
6
min read
"Travelling – it gives you a home in a thousand strange places, then leaves you a stranger in your own land", thus spoke Ibn Batuta, renowned traveller and friend of the old world.
And when you visit a place like Morocco, it beckons you like a seductress to a place so beautiful and enchanting that you do not want to leave.
We recently had the incredible opportunity to visit this alluring country, and our stay at the magnificent Mazagan Beach & Resort in Morocco turned out to be an unforgettable experience. From stunning beachside views to azure skies, from exquisite cuisine to thrilling adventures, this trip offered it all and then some. So grab your virtual passport and join us as we share our experience on this luxurious oasis.
First Impressions
As we pulled up to the resort, the sheer grandeur and intricate design set the tone for what was to come. Entering the hotel, one can easily be overwhelmed by the architecture. A blend of Arabic, Moorish and Portuguese influences (Since the Portuguese occupied Morocco for almost 100 years), it was nothing short of spectacular. The lobby, decorated with intricate mosaic design elements crafted by local artisans, was a journey into luxury and relaxation.
Accommodations and Amenities
We were welcomed into our room by a table filled with delicious fruits and Moroccan sweets. The hotel prides itself on its 500 rooms, which would be our luxurious abode for the next four days. Our room itself was spacious, elegantly furnished, and incredibly comfortable, with a balcony overlooking the ocean.
Our adventure commenced with a comprehensive tour of the resort. We were thrilled to learn that the resort boasts many amenities, from the sprawling pool area to the well-equipped fitness centre. Among the various activities, it offers a vast pool for water sports, biking trails, a tennis court, go-karting, archery and many more. The resort has its own delightful little forest with well-worn nature trails that can be traversed on foot, on bikes, by quad bikes or even on horseback if you so choose. Well, to keep the spirit of adventure alive, we chose to race on quad bikes through the wooden habitat and galloping horses on the beach.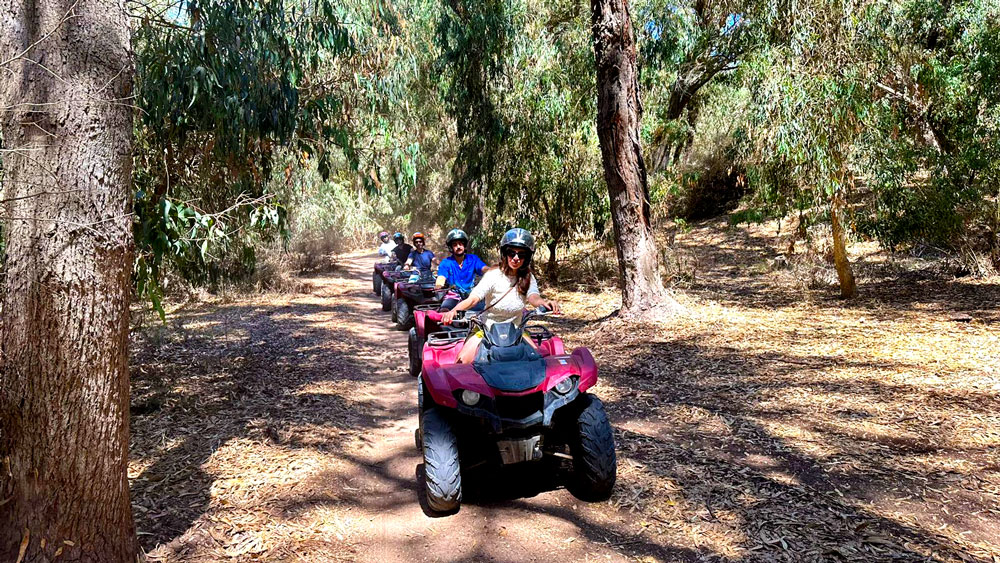 Quad biking in the forest – Mazagan Beach & Resort
And just to feed our adrenaline monster, we ziplined through the lush green trees to the beach and then raced around the go-cart track. After all the excitement, a visit to the spa is what the doctor recommends, and that is precisely what we did.
Resort designed for kids
The resort has many outdoor activities, even for young kids, like the water park, play zone, pony rides, paddle-board, a trampoline, paintball and even a rock climbing wall.
What truly stood out was the world-class 18-hole golf course (by Gary Player), where many international golfers honed their skills. But even if you're not a golfer, the lush greenery and coastal backdrop are worth a visit.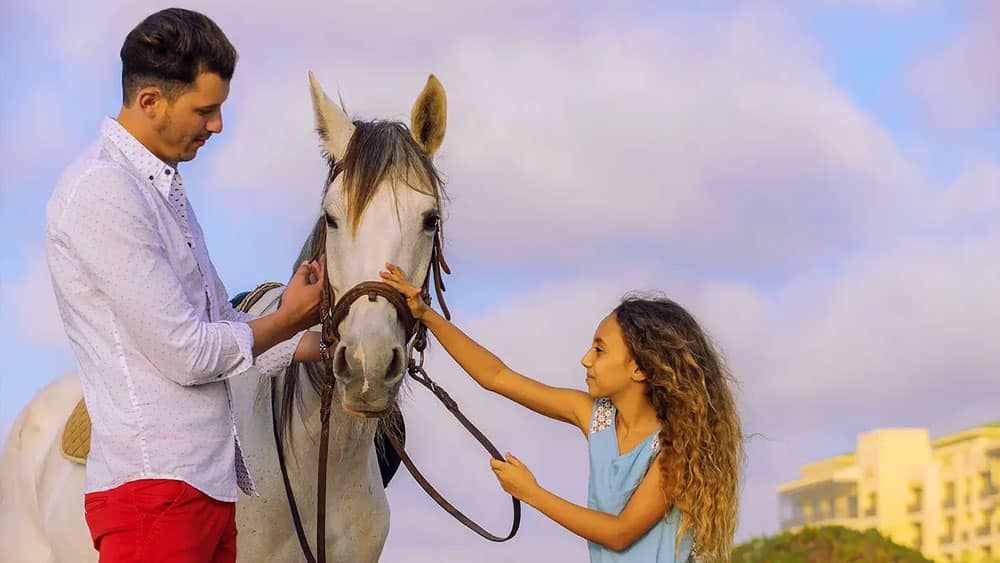 Fun activities for kids – Mazagan Beach & Resort
Culinary Delights
If you are a connoisseur of good food, brace yourselves for a whirlwind of gastronomic adventures! The resort has an array of restaurants serving up culinary masterpieces from around the world. Whether we were indulging in tasty Moroccan Harisa at Bushra by Buddha-Bar, breaking garlic-cheese bread at Beach Barbeque, savouring fresh seafood at the Sel de Mer and Buddha-Bar Beach, summer snacking at Oasis, or starting the day with a sumptuous breakfast buffet at the Market Place, every meal was a taste of heaven.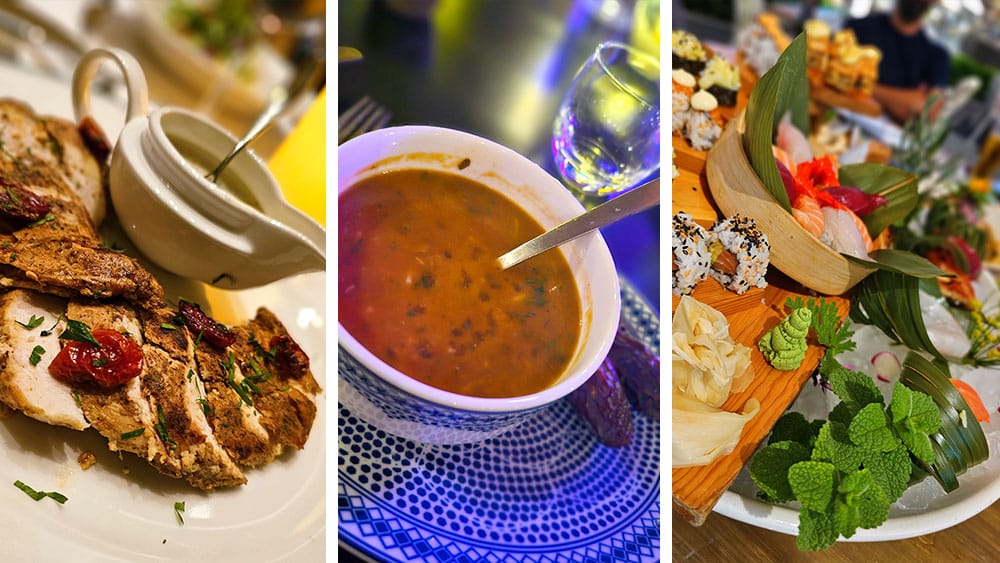 Culinary Delights – Mazagan Beach & Resort
Historical and Unforgettable
Morocco has a rich history interwoven with culture and tradition. To understand the country, we need to understand its history. And what place to start our search than Casablanca, the city which was made famous by its namesake movie Casablanca (starring Humphrey Bogart and Ingrid Bergman). While Rabat is the capital of Morocco, Casablanca is its largest city.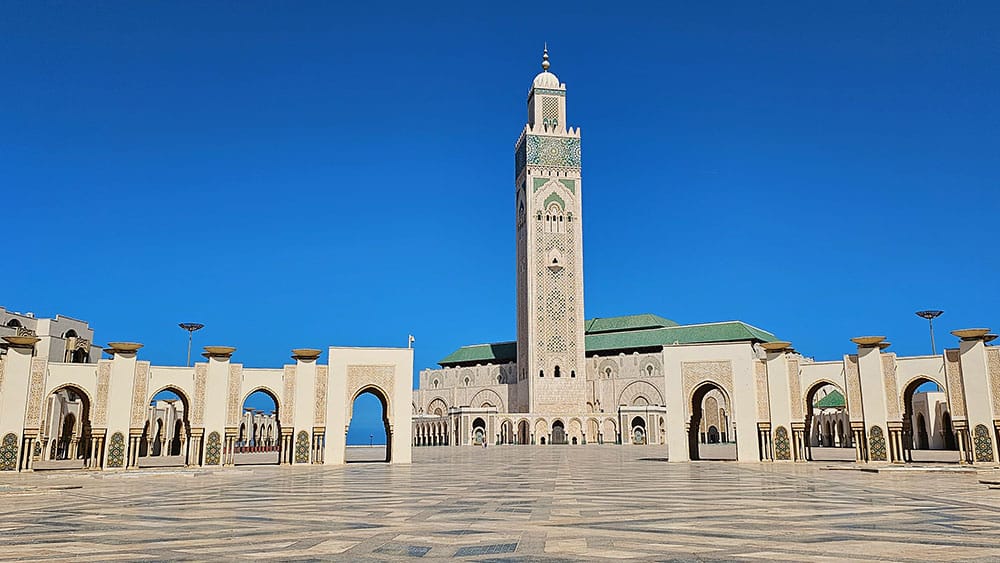 The Hassan II Mosque- Casablanca
Casablanca's Old Souq
One of the highlights of our visit to Casablanca was the guided tour of Casablanca's Old Souq. Only 90km away from the resort, the medina's narrow alleyways were bustling with energy and color. medina's narrow alleyways were bustling with energy and color. Shopkeepers peddled everything from intricate rugs to fragrant spices, and the atmosphere was a sensory delight. Bargaining for souvenirs was a fun challenge, and we managed to snag some unique treasures. A visit to the Hassan II mosque is must. The splendid mosque has a roof that opens to the heavens above for the visitors.
Old Souq – Casablanca
Trip to Witch's Island
Another unforgettable adventure was a tour to Witch's Island, also known as Sid Abdur Rahman. The island's rugged coastline were like something out of a urban folklore. We explored the island and soaked in the eerie, mystical vibe that surrounds this place. It was a memorable and slightly spooky experience!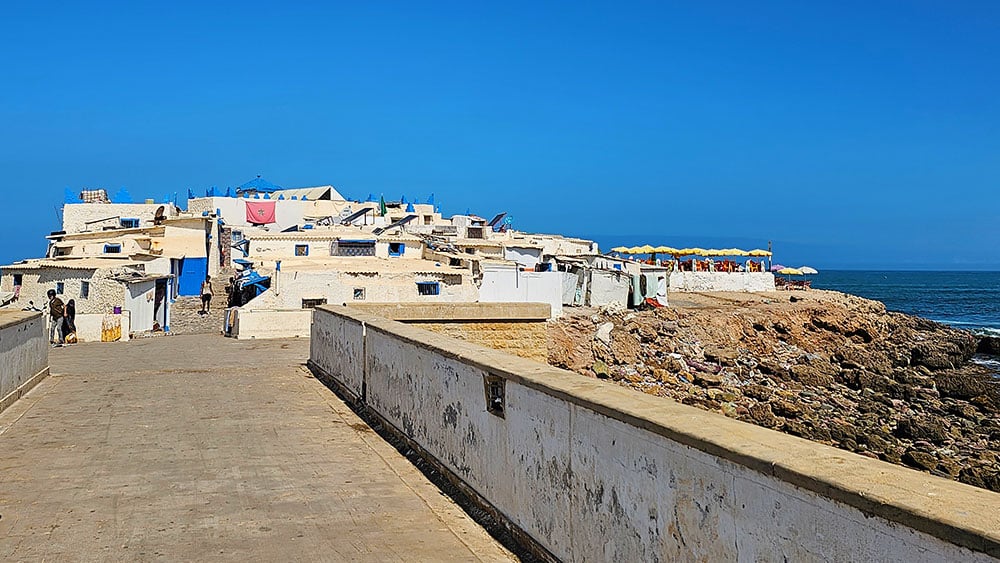 Sid Abdur Rahman – Casablanca
El Jadida
If you want to connect to the vibe of Morocco, El Jadida is the perfect place for you to visit. The traditional port town of El Jadida, classified as a UNESCO World Heritage site, was originally known in Berber language as Mazighen. Calm and serene, it felt like the place time had thankfully forgotten. The fortified city was built by the Portuguese at the beginning of the 16th century and named Mazagan. The clean corniche (promenade), the pretty palm tree-lined streets and the people laughing and sipping coffee at the sidewalk cafes created a picture of serenity which stays in one's mind for a lifetime.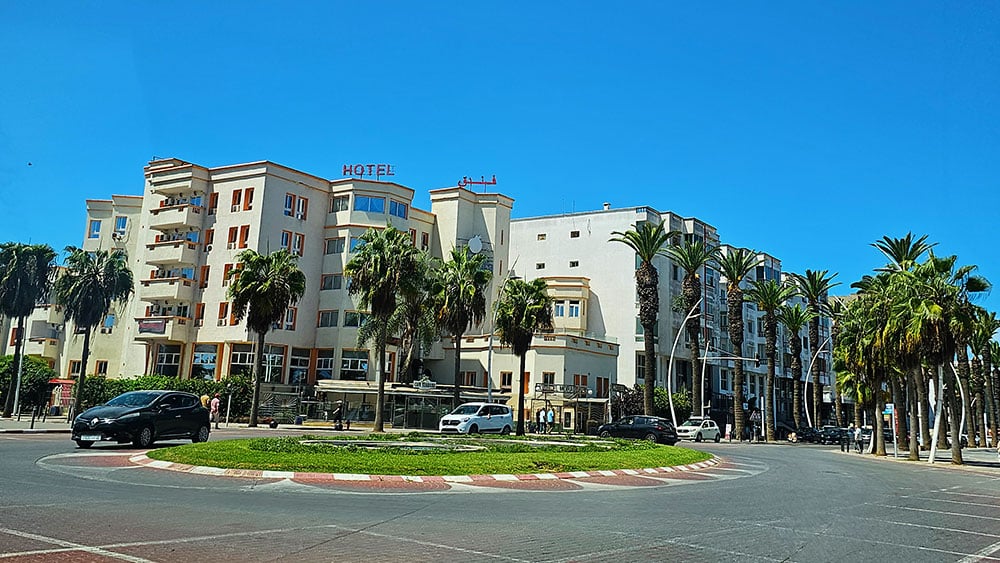 El Jadida – Morocco
Closing thoughts
Our stay at Mazagan Beach Resort in Morocco was a dream come true. It's the kind of place where you can relax like royalty, feast like a gourmand, and embark on adventures that will fuel your wanderlust for years to come. The staff's warm hospitality (A big thanks to Khadija, Ayoub and Siham) made us feel like family, and I left with a heavy heart, already plotting my return.
If you're seeking the perfect blend of luxury and adventure on Morocco's coast, Mazagan Beach Resort is the place to be. It's an experience you will want to experience.
A bit more about the Mazagan Beach & Golf Resort:
Mazagan is a unique coastal destination resort, located 90 km south of Casablanca, in El Jadida, capital of the Doukkala region. This previously unexplored region of Morocco benefits from year-round temperate weather and breathtaking views of the Atlantic Ocean, and is the home of Mazagan Beach & Golf Resort since October 2009.

It boasts of 492 rooms and suites, 13 bars and restaurants, an award-winning Spa, a nightclub, the biggest casino in Morocco, one of the largest conference centers in the region, 67 private villas and an 18 holes golf course, designed by the illustrious Gary Player. It covers 250 acres boarding a 7 km stretch of white sandy beach. With its ochre walls and green tiled roofs, the resort is designed to resemble an authentic "medina".

The resort has received multiple awards including the World Travel Awards, Iluxury Awards, Haute Grandeur Global Awards, Global Brands Magazine UK in 2021, 2022 and 2023.

For more information and bookings, visit www.mazaganbeachresort.com
A Slice of Paradise in Morocco: Mazagan Beach & Golf Resort is an article on A Slice of Paradise in Morocco: Mazagan Beach & Golf Resort
Read also – UAE Students make history at Morocco's Lego League
---