UAE Students make history at Morocco's Lego League
Mon 12 Jun 2023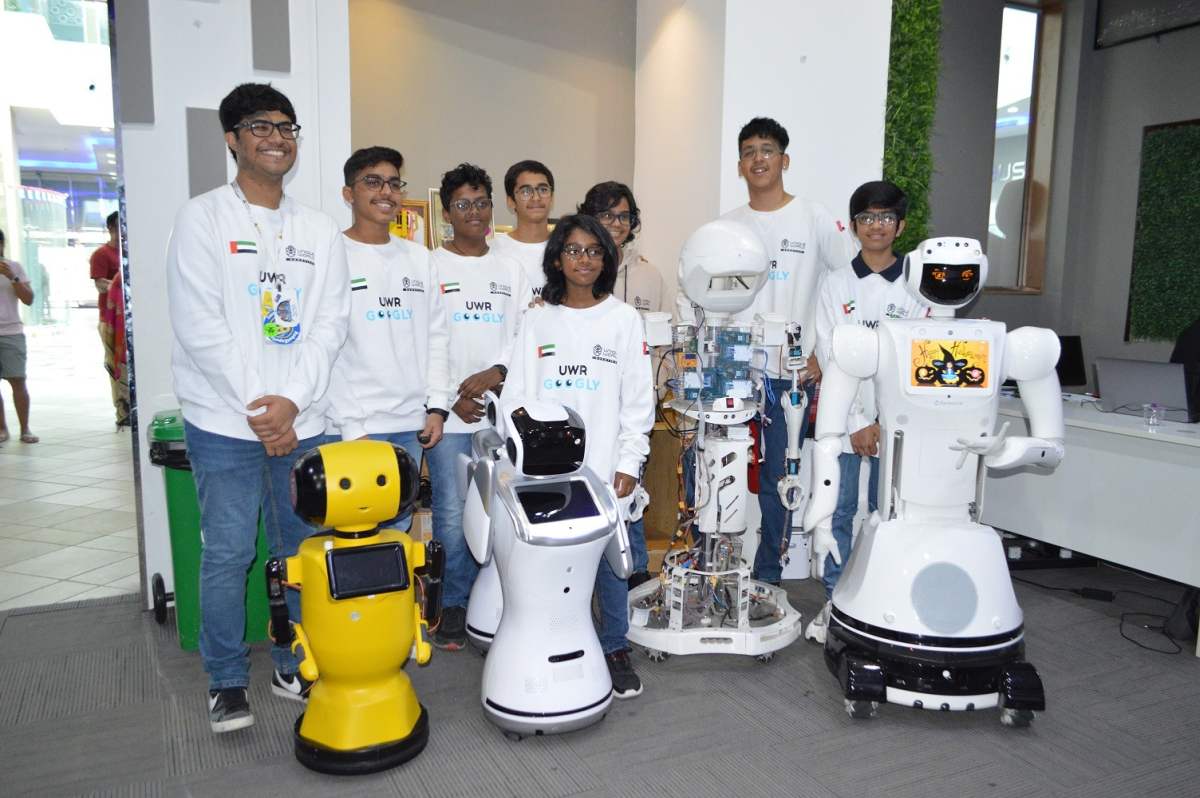 |
4
min read
Dubai: A group of eight UAE students, mentored, trained, and led by Unique World Robotics, a Dubai-based robotics training institute, has won a major international award in an international robotics competition. They created some amazing robots that offer innovative and sustainable energy solutions – that helped them win coveted awards on an international stage.
UAE's UWR Googly won the highly esteemed Innovation Project Award at the international robotics competition First Lego League Open International in Morocco in 2023 recently. The UAE has also bagged the overall 2nd position among the contesting countries that included the United Kingdom, the United States of America, South Korea, Spain, Australia, Germany, Brazil, Japan, Saudi Arabia, Norway, Qatar, and Morocco, among many others.
The eight-member UAE team consisted of Abhinav Chamoli from Ambassador School; Pranav Rajesh from GEMS United Indian School; Vedanth Aggarwal from GEMS Modern Academy; Rohan Pillai from Delhi Private School Sharjah; Idhant Agarwal of JESS 40; Nidanth Krishna from GEMS Our Own Indian School; Nershlin Naidoo from The Arbor School Dubai and Tinveer Naidoo from The Arbor School Dubai. They were led by Bansan Thomas George, Founder, and CEO of Unique World Robotics.
The UWR Googly team created an Artificial Intelligence (AI) solution that improves energy efficiency. They created ECO Switch EV3 Robot that can switch the energy sources from solar to wind depending on the weather condition – making them reduce pollution and more sustainable.
"The UAE students demonstrated excellent skills in coding, assembling robots and putting them to use – in front of the global audiences and jury – that captured the undivided attention of the organizers as well as the members of the jury," Bansan Thomas George, Founder, and CEO of Unique World Robotics, said.
"The success is a reflection of their expertise, hard work, and collective teamwork and they have demonstrated their capability on the international stage, making the UAE proud."
The move is part of Unique World Robotics' quest to promote the UAE as a land of scientific development and innovation, in line with the UAE Government's vision.
The First Lego League Morocco Open International 2023 was an awe-inspiring experience that brought together brilliant minds from 48 countries, fostering unity, innovation, and collaboration. Team Googly, with participants from different schools, had the opportunity to participate in this global gathering, exchanging knowledge, fostering innovation, and celebrating the remarkable power of young innovators.
More than 60 teams of young people aged 9 to 16, from 48 countries, took part in this edition under the theme of 'Superpowered' energy. This competition, which is the culmination of the 2022/2023 season, is the result of the hard work of the LOOP For Science and Technology Association, which has been dedicated to promoting educational robotics throughout the Kingdom. Participants were required to show innovation by proposing solutions related to energy production, storage, transportation, and use.
The UAE's Team Googly overcame challenges from 47 other participating countries vying for a number of coveted awards at the competition held in the Moroccan city of Marrakech, from May 18 to 21, 2023.
"We extend our heartfelt appreciation to the students of the UWR Googly Team, the dedicated trainers at Unique World Robotics who have nurtured and guided the students. Your expertise, unwavering support, and tireless efforts have played a vital role in their success. Thank you for shaping these young minds and inspiring them to reach new heights," Bansan Thomas George said.
"This is the second time this year that a team from Unique World Robotics has qualified to represent the UAE in an international event, and we couldn't be prouder of their remarkable achievements.
"We want to express our heartfelt gratitude to the parents and school authorities of UWR Googly participants for their incredible support and belief in their abilities. Your encouragement and guidance have been instrumental in helping them overcome challenges and achieve great things. Thank you for being their strongest supporters. We also extend our sincere appreciation to the school authorities and teachers for creating a nurturing environment and providing continuous support to UWR Googly."
Earlier, a group of UAE students, led by Unique World Robotics, won 7 awards including the Global Finalist Awards at the International Space Apps Challenge held recently, which reflects the development of local talents within the UAE.
These awards strengthen the UAE's position in global gaming and information technology, and innovation and fall in line with the UAE Government's vision to create an eco-system of technology and innovation and transform the UAE as a global innovation hub. Unique World Robotics has demonstrated that it has the capability to help realize the UAE's innovation vision.
"These awards are collective efforts put together by schools, parents, students, and our instructors at Unique World Robotics and reflect the UAE students' creativity and innovation as well their desire to make meaning contributions in the field of Science, Technology, Engineering, Robotics, Artificial Intelligence and Innovation," Bansan Thomas George said.
"In the coming months and years, we will pursue more such international competitions to raise the flag of the UAE at a much higher level."
Robotics Market Trends are growing in demand. In recent days, the industry has seen huge investments from the end-users and governments on the market. The global robotics technology market size was valued at $62.75 billion in 2019 and is projected to reach a staggering $189.36 billion by 2027, growing at a CAGR of 13.5 percent from 2020 to 2027. The rise in the need for automation and safety in organizations and the availability of affordable, energy-efficient robots drive the growth of the global robotics market.
The US National Aeronautics and Space Administration (NASA) is implementing its Space Apps project in 313 cities around the world. In addition to engaging 10 million students across the globe through social media, the Nasa Space Apps Challenge is planning to engage 200,000 students directly in the competition.
---