A strong finish in Dubai Fitness Challenge's last week with a thrilling sports lineups & fun
Mon 20 Nov 2023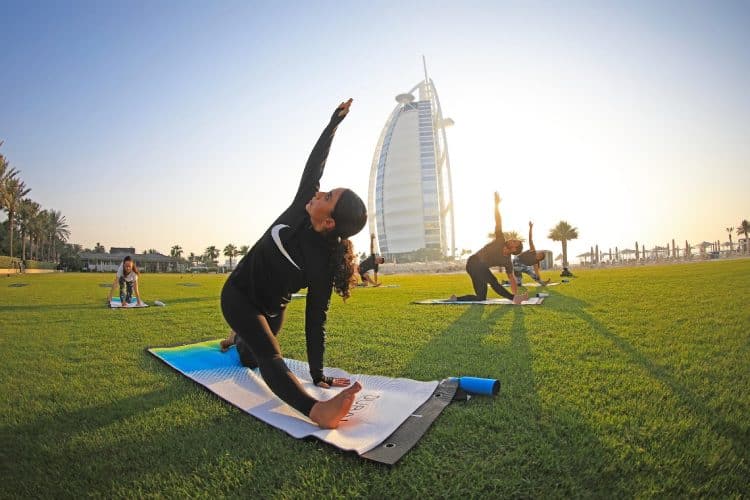 |
11
min read
Prepare yourself for a final adrenaline-fueled week packed with free and inclusive fitness classes, events, activities and more, with the fifth edition of Dubai Run
Dubai: With three incredible weeks of exhilarating fitness activities and boundless enthusiasm behind us, Dubai Fitness Challenge (DFC) is now on the home stretch, paving the way for a truly unforgettable finale. 
Launched on 28 October, the city of Dubai has witnessed an unprecedented surge of energy and commitment from its residents and visitors this year who have come together to smash their 30×30 goals and embrace a more active lifestyle. As the fourth and final week unfolds, a multitude of events, challenges, and activities await, promising an epic conclusion to this city-wide activation, leaving an indelible mark on Dubai's health and fitness landscape. From running, jogging or walking your way to a fitter future at the fifth Dubai Run, presented by Mai Dubai, to taking on the myriad of fitness classes, events and activations happening across the city – here's what's in store for the final week:
Upcoming Sporting Events in Dubai Fitness Challenge
Explore new ways to fulfil your 30 with a multitude of fitness events across the city.
Dubai Run presented by Mai Dubai – Ready, steady, go!
The fifth edition of Dubai Run presented by Mai Dubai makes its grand return on the iconic Sheikh Zayed Road on 26 November. Supported by Sun & Sand Sports, the event is set to make history once again, transforming the entire road into a runner's paradise from 6:30 AM, Participants from all walks of life, abilities, and fitness levels are invited to challenge themselves to go the distance with the choice of two distinct routes, both starting on Sheikh Zayed Road near the Museum of the Future:
5km Downtown Family route | a flat course perfect for families and runners of all levels takes participants past Dubai's iconic landmarks including Dubai Opera, Dubai Mall, and Burj Khalifa.
10km Sheikh Zayed Road route | a more challenging course for experienced runners that stretches from Sheikh Zayed Road to Dubai Canal before looping back and concluding at Al Mustaqbal Street close to DIFC Gate.
There's still time to register, so visit https://www.dubairun.com/ to secure your sport for an unforgettable run through the vibrant streets of Dubai.
Tomorrow Ride 2023 – Join for a healthier community
Gear up for the second edition of the Tomorrow Ride – a thrilling cycling event taking place on 25 November from 6:15 AM to 10:30 AM. THe ride starts at Hamdan Bin Mohammed Smart University campus, with two courses:
4km route | ideal for families and children of all age groups and skill levels, starting from Hamdan Bin Mohammed Smart University and looping around the university.
26km (52km route – two loops) route | a more challenging route through Academic City for experienced cyclists.
Whether you're a seasoned cyclist or a family looking for a morning adventure, visit the Hopasports website and register.
City Centre Mirdif Run – Fitness and fun unite
Lace up your running shoes and join for an exciting adventure through the City Centre Mirdif Mall on 25 November starting from 7 AM. This is not just a race, it's a celebration of unity, health, and community spirit during the last week of DFC. Choose from two routes:
600m | designed for the youngest participants aged 0 to 10 years, covering one lap
2.5km | ideal for participants aged 10 to 99 years, covering four laps
Additionally, win valuable prizes offered by Honor, Lululemon, Fitness First, RX coffee, along with medals and trophies, adding an extra layer of motivation for participants. Tickets range from AED 52.50 to AED 78.75. For more information and registration, visit Premier Online.
The ICP Cycling Challenge – Unleash your cycling prowess
Be prepared for the ride of a lifetime at the ICP Cycling Challenge 2023, sponsored by the Identity and Citizenship Authority. On 23 November, pedal your way through 50km of pure thrill on the stunning Al Qudra Cycling Track. Whether you're a powerhouse woman, a dedicated member of the Identity and Citizenship Authority, or a passionate community rider, there's a category just for you. With staggered start times, set your alarm for an exciting day of cycling:
7:05 AM – Community Ride,
7:10 AM – ICP Ride
7:15 AM – Women Ride
The celebration doesn't end at the finish line! At 10 AM, join for the winner's ceremony where champions from each category will be presented with valuable prizes, including a well-deserved medal as a reminder of your incredible achievement.
Dubai Padel Cup (DPC) – An adrenaline-packed competition
Get involved in the DFC community-centred padel tournaments, running until 27 November, inviting players of every skill level to join in. You can also take advantage of free Padel clinics, offering complimentary 30-minute coaching sessions for all ages and skill levels across the city. There is also the Juniors School Programme, which aims to inspire students, foster a love for the sport and nurture the next generation of padel enthusiasts. For more information, visit the Dubai Padel Cup website.
Three Free Fitness Villages during fitness challenge
Get ready for a final action-packed week across DFC's three fitness villages located at Kite Beach, Mushrif Park, and One Central. These bustling hubs are designed to spark your love for fitness with a wide range of sports, classes, events, and much more throughout the Challenge. Whether you're a seasoned athlete, sports enthusiast eager to try new things or a complete newcomer to fitness, this is your last chance to experience these special venues.
DP World Kite Beach Fitness Village
Located on Dubai's iconic coastline, the DP World Kite Beach Fitness Village is a haven for fitness enthusiasts of all levels, offering a diverse range of activities to cater to every taste and interest. Whether you're looking for a peaceful yoga session, an energetic spin class, or family-friendly activities, it has something for everyone. Here are just some of the highlights:
Go Well Stage | get in on the excitement at the main stage with daily high-energy fitness classes.
Emirates Teen Fit | nurture your child's love for fitness and physical activity in a dedicated studio where they can take part in age-appropriate classes and activities.
Padbol Courts | experience the thrilling fusion of football and racquetball on a dynamic court equipped with rebound walls in the exciting realm of Padbol.
MIRA Lift – Ride – Row | a range of rowing and spinning sessions designed to maximise your workout experience, in addition to a fully-equipped open-air gym for you to follow your own workout routine or join a high-intensity HIIT class.
Emirates NBD Aqua Park | a thrilling 40m inflatable water-based obstacle course designed for participants aged 3 and above. Experience 30 minutes of pure delight for just AED 30 – the perfect chance to stay active or cool off after an intense workout.
DP World Sports Hub | elevate your fitness journey in our innovative three-tier Sports Hub, featuring an arcade, mini-Golf, HIIT classes, yoga sessions, and much more.
Lipton Yoga and Wellness | whether you're a beginner or an experienced yogi, dive into the practice, stretch, breathe, and meditate your way to a stronger body and calmer mind.
Mai Dubai Refill Stations | stay hydrated on your fitness journey with the convenience of a water refill station.
Aster First Aid | focus on your fitness journey with peace of mind as an onsite first aid station is available for any assistance you may need.
Open weekdays from 8 AM to 1 PM for schools, then from 3 PM to 10 PM for the public and on the final weekend from 7 AM to 10 PM. Learn more at DP World Kite Beach Fitness Village Schedules.
RTA Mushrif Park Cycle Centre
Perfect for both cycling enthusiasts and those seeking outdoor adventures, the RTA Mushrif Park Cycle Centre offers a range of cycling activities suitable for riders of all ages. As we approach the final week of DFC, don't miss the chance to explore:
Guided Mountain Bike Trail Rides | choose between a beginner-friendly 5km trail or a more challenging 15km route tailored for riders aged 12 and above.
Mushrif Park's Road Tracks |beginners can take the 5km road track, while the 12km road track provides an intermediate route for more adventurous riders.
Weekday sessions are from 7 AM to 8 AM and 4 PM to 8.30 PM, while on the final weekend, the centre is open from 7 AM to 10 AM and 4 PM to 10 PM. You can opt to bring your own bike, or alternatively bikes are available free of charge to use. Visit RTA Mushrif Park Cycle Centre Fitness Village | Dubai Fitness Challenge to learn more.
Run and Ride Central
Set out on a fitness journey at Run and Ride Central, conveniently located at One Central and just a short walk from Emirates Towers and Dubai World Trade Centre Metro stations. Offering a variety of complimentary classes to incredible retail opportunities, this fitness village awaits your exploration as DFC draws to an end:
Free Fitness Classes | daily classes including boxing, body combat, stretch and Pilates.
Fitness Hub | sponsored by Dubai Chambers, ideal for the local business community.
Spinning studio | sponsored by Dubai South to support visitors' 30X30 goals.
Shopping | explore the multitude of retail outlets, featuring popular brands like adidas, Asics, SIRO, and Technogym, with a wide range of fitness clothing, equipment, and accessories available to buy to elevate your workouts.
Bib collection |the central point from which to collect your bib for Dubai Run presented by Mai Dubai, taking place on Sunday 26 November. Pick up is set until 25 November from 2 PM to 10 PM from Monday to Friday and from 10 AM to 10 PM on Saturday.
Prizes to be won | Blue Rewards is giving away fantastic prizes throughout DFC. Sign up at its dedicated booth and automatically enter its weekly draw for 1million Blue points worth AED 10,000. Or, if an existing member, play via the app to win prizes including Blue points, weekly free Champs passes. You can also head to its social channels and be one of 20 lucky winners to take home gift cards worth a total of AED 10,000.
Open daily from 7 AM to 10 PM throughout the final week of DFC. Visit Run and Ride Central to find out more.
Community Fitness Hubs – sporting opportunities in the heart of your neighbourhood
Designed to bring daily free activities and workout sessions to your doorstep, these community fitness hubs make it incredibly convenient for the entire family to achieve a healthier and more active lifestyle. Wherever you are in the city, seize the opportunity to explore these community fitness hubs before the final week concludes:
City Walk Fitness Hub |dive into a variety of activities, such as Pilates, full-body HIIT, circuit and core workouts, and a rejuvenating physiotherapy recovery programme.Also, don't miss the photo booth activation where visitors can create 10-second videos displayed on the large Roxy Cinema Screens overlooking the main outdoor area throughout DFC.
The Beach, JBR | Get ready to dance your way to fitness at The Beach, JBR! Dive into an exhilarating array of free fitness classes, featuring Zumba, trampoline fitness, boxing, kickboxing, yoga, and meditation. Revel in 6 hours of fitness fun every Friday and Saturday on the lawn area opposite the Pavilion. What's more, a DJ will be on hand to keep the crowd entertained and energized between classes!
Golden Mile Galleria Fitness Hub | whether you're aiming to enhance flexibility, build strength, or simply have a great time with your family, the Golden Mile Galleria Fitness Hub has got your back. Kids can enjoy exciting gymnastics classes, where they can learn balance, coordination and have endless fun. With loads to choose from, there are countless options for achieving your daily 30 including full-body stretching, Pilates mat sculpt, crossfit, and more. Don't forget to bring your towel and water to stay hydrated and comfortable throughout your workouts. For those joining the sessions, yoga mats will be provided.
Bluewaters Fitness Hub | prepare for an active experience at Bluewaters as DFC takes over the waterfront destination, with daily morning and evening group fitness sessions overlooking the sea and the magnificent Dubai skyline. For the full schedule and registration visit https://my.coredirection.com/booking/bluewaters.
JLT Fitness Hub | a bustling hub of health and wellness – with morning sessions kicking off at 7 AM and evening sessions starting at 4 PM – fostering a sense of community among residents. Enjoy a range of workout classes catering to fitness enthusiasts of all levels in different areas of JLT, including the newly developed sports facilities like the Fitness Station, football, and basketball fields, and padel court.
ISD Dubai Sports City Fitness Hub | an action-packed schedule filled with a whole host of morning, evening, and weekend fitness sessions:
Energizing workout: Mondays from 7 AM to 8 AM.
Evening workouts: Wednesdays from 7 PM to 8 PM.
Running club: Saturdays from 9 AM to 10 AM.
As an added bonus, enjoy:
Free 90-minute Padel Court bookings: weekdays from 11 AM to 3 PM, and on the weekends from 6 PM to 9 PM.
Free 60-minute Tennis Court sessions: weekdays from 10 AM to 3 PM, and on the weekends from 11 AM to 3 PM.
DANUBE Sports World |enjoy a variety of sports every day from 6 AM – 9 PM at its Fitness Hub in Al Meydan Road, Al Habtoor City.Follow @danubesportworld on Instagram for daily slot announcements at 5 PM. You can also stay active while supporting a great cause by donating to Dubai Cares.
Dubai Marina Mall | complimentary yoga, community runs, mobility sessions and a plethora of fitness classes await, held in partnership with tenants including Nike, Lululemon, L'Occitane, The Coffee Club, and more.
The Ripe Market Fitness Hub |start your mornings the right way with a timetable of free events and classes that cater to all levels, held in partnership withF45, Karma Yoga, 8D Yoga, My Core Studio, Yoga House, Padel Park, Fetid and Earth Goods:
Saturday 25 November:
9 AM to 10 AM – Community Yoga session by Karma Yoga Studio
9 AM to 9.45 AM – Gymnastics and Relays for 2-7 years old kids by Fitkidz UAE
10 AM to 11 AM – Introduction to Padel by Padel Park
Daily 5 PM to 6 PM – Sunset Yoga House, My Core Studio and Earth Goods.
Sunday 26 November: 

9 AM to 10 AM – Community Yoga session by 8D Yoga

9 AM to 9.45 AM – Gymnastics and Relays for 2-7 years old kids by Fitkidz UAE

10 AM to 11 AM – HIIT Class by F45

Daily 5 PM to 6 PM – Sunset Yoga House, My Core Studio and Earth Goods.

Dragon Mart Fitness Hub | until 26 November, smash and swing at this ultimate sports haven.Immerse yourself in the excitement of badminton as Yu Fu Lai Sports invites you to an open court set up at Dragon Mart 2, International City. The courts are available daily, with convenient one-hour slots from 10 AM to 11 AM and 12 PM to 1 PM. Additionally, head to MyGolf Recreation Hall from 10 AM to 8 PM and try out their indoor golf simulator experience. Practise your swing, refine your technique, and challenge your friends to a friendly match, all within the comfort of this venue. Prior booking is essential, requiring a minimum of 24 hours' notice to ensure your spot on the greens.
Hatta Wadi Fitness Hub | embrace the cooler weather and immerse yourself in the natural beauty of Hatta with an exciting lineup of outdoor family-friendly activities including hiking, mountain biking, yoga, zorb football and wall climbing.For additional details or inquiries, reach out to

[email protected]

.
Dubai Physiotherapy and Rehabilitation Centre Fitness Hub | daily 30-minute exercise sessions for People of Determination led by specialised doctors and therapists, promoting fitness and inclusion in the community. The sessions cover seated and standing exercises and include workshops on nutrition and cardiac endurance. Most sessions are open to both men and women without advance booking, but space is limited, so arrive early to secure your spot.
Other fitness hubs can also be found at the following locations: Dubai Design District (D3), Dubai Festival City, Zabeel Ladies Club, Dubai Healthcare City (DHCC), Champs, DIFC, and Emirates Equestrian Centre.
Guilt-Free Gourmet Delights
Savour the last week of DFC with delicious, guilt-free menus and irresistible offers designed to complement your wellness journey. Here's a taster of what awaits:
The Acai Spot – 15% off with every 10,000 steps | step into a world where health meets flavour at The Açaí Spot! Revel in the vibrant flavours of their menu and reap the rewards of your active lifestyle – walk your way to a delightful 15% discount by completing 10,000 steps. Please note that this offer cannot be combined with other discounts or used on combos.
Ultra Brasserie – step into savings, step into wellness | relax and unwind at yoga sessions at Ultra Brasserie at Marina Plaza or Emaar Square every Saturday and Sunday, followed by an unlimited breakfast for AED 89. And that's not all – your steps will pave the way for savings! Reach 10,000 steps and get a 10% discount, 15,000 steps for 15%, and keep climbing to 50,000 steps for a potential 50% off.
21 Grams – breakfast bliss at AED 85 | elevate your mornings with a wellness-infused breakfast, with your choice of coffee or tea, paired with a fresh juice and selection of delectable options from pindjur eggs to homemade granola with Greek yoghurt. All this goodness for just AED 85 per person every weekday until 5 pm.
Vietnamese Foodies – low-cal bliss from AED 19 | discover a world of taste without compromising your health goals. Explore a delightful array of appetizers under 350 kcal and mains under 500 kcal, starting at just AED 19. Indulge in guilt-free delight with specially crafted dishes, thoughtfully designed to please your taste buds while keeping your calorie count in check.
Quince Restaurant & Café – fitness feast from AED75 | aim for 10,000 daily steps to unlock an exclusive 20% discount on Quince Restaurant & Café's special Dubai Fitness Challenge Menu. Available from 8 am to 11 pm, kickstart your day on a healthy note with a breakfast package, featuring delights like an Overnight Oats Bowl paired with coffee or any other beverage for AED 75. For lunch or dinner, relish options such as Baked Salmon or Grilled Chicken with Quince Salad, accompanied by a beverage for AED 120.
Click here to find out more for a full list of participating venues and exclusive offers.
With a diverse array of events and activities, the final week promises a chance to challenge yourselves, revel in your commitment to a healthier lifestyle, and acknowledge every stride made. Let's finish strong and carry the energy of the Dubai Fitness Challenge into the final days ahead. For more information, visit www.dubaifitnesschallenge.com. The Dubai Fitness Challenge is organised by Dubai's Department of Economy and Tourism (DET) and Dubai Sports Council; with Presenting Partners DP World, Dubai South Mai Dubai, and Dubai's Roads and Transport Authority (RTA); Association Partners Sun and Sand Sports, Blue, Dubai Chambers, Emirates Airline, Emirates NBD, Etisalat by E&, La Roche Posay, MIRA Developments, Mubadala Health, Optimum Nutrition, talabat, AVIV, Shamal – Kite Beach and Emaar; Official Partners Aster Hospitals, Clinics and Pharmacies (healthcare partner), Arabian Automobiles Co, Cigna, Emarat, Lipton, SIRO and TechnoGym; Media Partner Arabian Radio Network (ARN); and Government Partners Dubai Corporation for Ambulance Services, Event Security Committee, Dubai Knowledge and Human Development Authority (KHDA), Dubai Municipality, Dubai Police, and Emirates Schools Establishment.
---