269 Tesla cars, Model 3 added as a taxi in Arabia Taxi fleet in Dubai
Wed 26 Apr 2023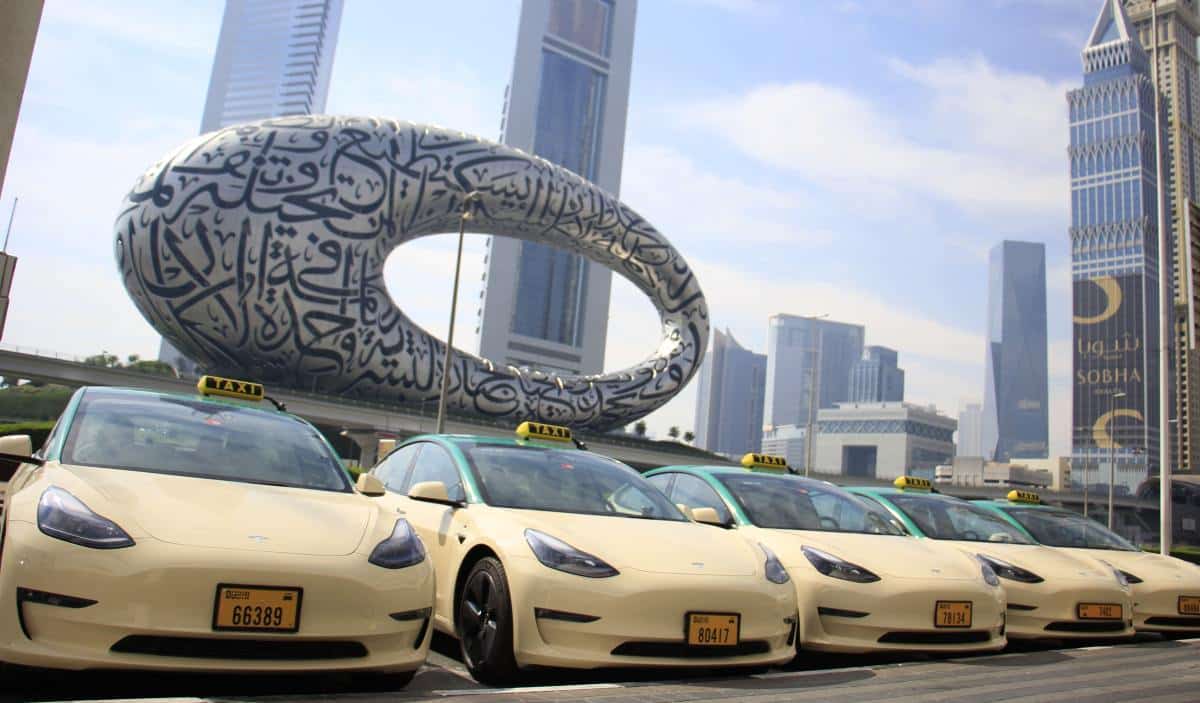 |
2
min read
Dubai: Arabia Taxi LLC – Dubai, a subsidiary of the Economic Group Holdings owned by Sheikh Majid bin Hamad Al Qasimi, announced the signing of an exclusive agreement with Tesla Motors – Dubai, to add 269 Tesla cars, Model 3, to the Dubai taxi fleet in April 2023 in line with the strategy of the Roads and Transport Authority in Dubai to convert taxi vehicles in Dubai (Dubai Taxi and franchise companies) into a 100 percent environmentally friendly (hybrid, electric and hydrogen) vehicles by 2027.
The Economic Group owns the largest fleet of private taxi vehicles in the United Arab Emirates. Its fleet includes about 6,000 taxi vehicles. These new 269 vehicles represent a giant leap towards converting the company's fleet to a fully electric and carbon-free one.
In this context, Sheikh Majid bin Hamad Al Qasimi, Chairman of the Board of Directors of The Economic Group, said that the company has made remarkable progress in this field, as 83 percent of the cars in the Dubai fleet are currently operating with environmentally friendly hybrid engine technology.
"The company is working on a strategic plan to convert the remaining vehicles into fully electric cars and is considering the possibility of using hydrogen-powered vehicles in the future. It is looking forward to expanding its cooperation with Tesla and a number of electric car manufacturers, to offer its clients diversified sustainable and environmentally friendly transportation options. The company hopes to play a leading role in promoting the transformation of the public and private transport industry towards a sustainable one, and reducing the environmental impact of commercial activity in the UAE and the whole region." Al Qasimi added.
Ahmed Bahrozyan, the CEO of the Public Transport Agency at the Roads and Transport Authority, said: "This step confirms the efforts of Arabia Taxi is working to translate the directions of our wise leadership, to rationalize the use of energy in the UAE, and to create a safe, clean and sustainable environment that lives up to the level of reputation and prestige of the Emirate of Dubai, as well as promoting the Dubai government's initiative to introduce green vehicles for a cleaner environment."
Bahrozyan stressed the importance of joint cooperation between the authority and the franchise companies towards improving the electric transport infrastructure in the Emirate of Dubai, noting that this fruitful cooperation will contribute to reaching the desired goals and converting 100 percent of the taxi vehicles into environmentally friendly cars by 2027.
The strategic transformation of Arabia Taxi- Dubai corresponds with the Dubai Roads and Transport Authority's plan to reduce its carbon footprint and improve air quality in the emirate over the next five years.
---