Namita's Natter // Global Warming Reveals The Ugly Side Of Mt Everest – Mountaineers' Ego Tourism
Fri 15 Jan 2021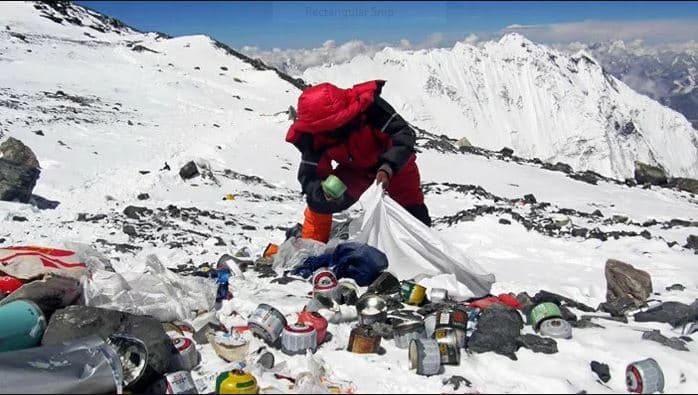 |
3
min read
It's every climber's dream – conquering the mighty Mount Everest. Since long before the world's highest peak was first conquered in 1953 by Edmund Hillary and Sherpa Tenzing Norgay, mountaineers from across the world have travelled to it. From spring to late summer every year, young and old climbers make their way to Nepal to summit Everest. Those who make it to the top become heroes overnight. And those who don't are lauded for their brave attempt. But what the cameras fail to notice is the disgusting filth left behind in the wake of glory.
A Mountain Of Trash
Tons of garbage and human waste are dumped indiscriminately across the mountain, earning it the title of 'The World's Largest Garbage Dump'. Food cans, water bottles, batteries, empty oxygen cylinders, pieces of discarded tents, human waste and kitchen waste can be found along most trekking routes. The trash buildup has now reached alarming levels. Litter is now spilling out of glaciers and camps are overflowing with smelly piles of human waste. This also poses a serious health hazard to new visitors at the camps, as well as to locals who live on water from the melting ice.
A Gory Graveyard
What's even more disturbing is that Everest is also a mighty graveyard. Thousands have been caught in avalanches and snow storms and never made it back. Carrying their remains back at such low oxygen levels is nearly impossible for the people accompanying them. Hence, innumerable bodies have been dumped across the glaciers, remaining intact due to the sub-zero temperatures. Due to global warming, long-frozen human remains have begun emerging rather frequently.
Cleanup Expedition
All these issues led to the government of Nepal announcing a 45-day cleanup expedition in which a staggering 11 thousand kilograms of garbage was pulled off the mountain.
Peak Logjam Turns Fatal
With more and more companies cropping up, promising to help you reach the summit of Mount Everest, things are getting pretty serious. The last climbing season, in 2019, saw a logjam of dozens of climbers waiting in line to climb the final stretch of the peak – a human traffic jam of sorts. It was also one of the deadliest seasons in recent times, with 11 deaths. Experts feel that large crowds lead to unruliness and thus, carelessness which ends up being fatal.
Government's Dilemma
But this problem is a harder one to solve and has put the Nepalese government in a spot. On one hand, there's a need to safeguard the environment and also the safety of climbers. One way of doing this is by giving out a limited number of climbing permits every season. But on the other hand, this means capping the season's economic benefits. Reports suggest that Everest climbers bring an inflow of around $300 million to Nepal every season, in addition to providing employment to a large number of Sherpas. This is a massive amount of money for a relatively poor nation like Nepal where one in four citizens are below the poverty line.
Temporary Solution
For a temporary solution, the government is now charging climbers a $2400 security deposit when they apply for a climbing permit. Climbers who return with 18kgs of trash – the average amount generated by a single person – are given a refund of the security deposit. Meanwhile, those who bring back less than 18 kgs of trash are forced to pay a fine.
While this system is not a solution to Everest's degradation problem, it is certainly a step in the right direction. And the cancellation of the 2020 climbing season certainly gave the slopes some much-needed respite.
---
Disclaimer: All views and opinions expressed in The Brew View – our opinion section – are those of the authors' and do not necessarily reflect the official policy or position of TheBrew.ae, the company, or any of its members.
---