Dubai's very own Richie Rich owns a fleet of supercars
Sun 30 Jan 2022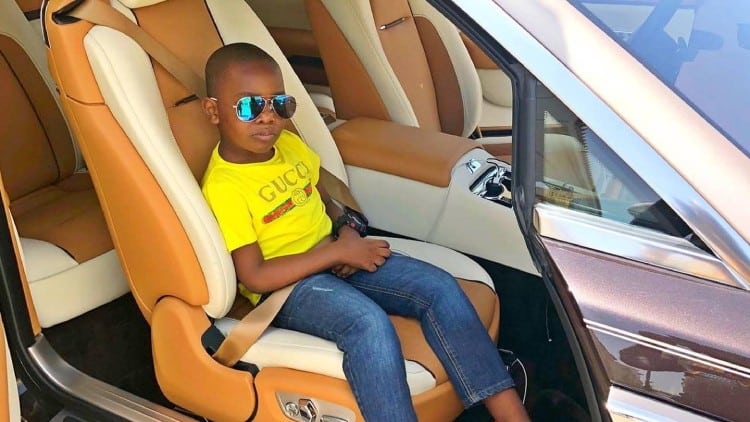 |
< 1
min read
A kid from Nigeria is living the extravagant Richie Rich lifestyle after being given his first mansion at the age of six, having also accumulated a fleet of supercars.
The boy in question is Muhammed Awal Mustapha, known as Mompha Junior, can be seen in his Instagram photos posing in designer clothes and flying by private jet.
Mustapha, is the son of multimillionaire Nigerian internet celebrity Ismailia Mustapha, who is popularly known as Mompha and has 1.1 million followers on Instagram.
The doting dad bought Mompha Jr his very first mansion to celebrate his sixth birthday back in 2019, reportedly writing on social media at the time, "Owning your own home is one of the best feelings ever. It can't be described in words, it can't be quantified in money. Homeownership is a feeling that makes life's daily grind worth facing. It reassures you that after all the ups and downs you have a place to go…. A place that will never judge you and always invite you with open arms. Congrats My Son on your New Home. Ur birthday Gift from Daddy."
In another post, Mompha argued that his child has earned his accolades after 'paying his dues.'
He said, "The youngest landlord who wears Gucci and still owns a house. He deserves some accolades cos he has paid his dues in full."
Mompha Jr, now aged nine, often shows off his lavish life to his followers on Instagram, where he has more than 25,000 followers.
In one snap, posted in 2019, he stands in front of a red Lamborghini Aventador wearing designer clothes – including a Versace t-shirt and some pricey-looking sunglasses.
"Happy birthday to me," he captioned the post.
Source: Agencies


---