10 KG burger battle in one sitting! if five of you can devour this Monsta in one sitting, the meal is on the house!
Tue 26 Sep 2023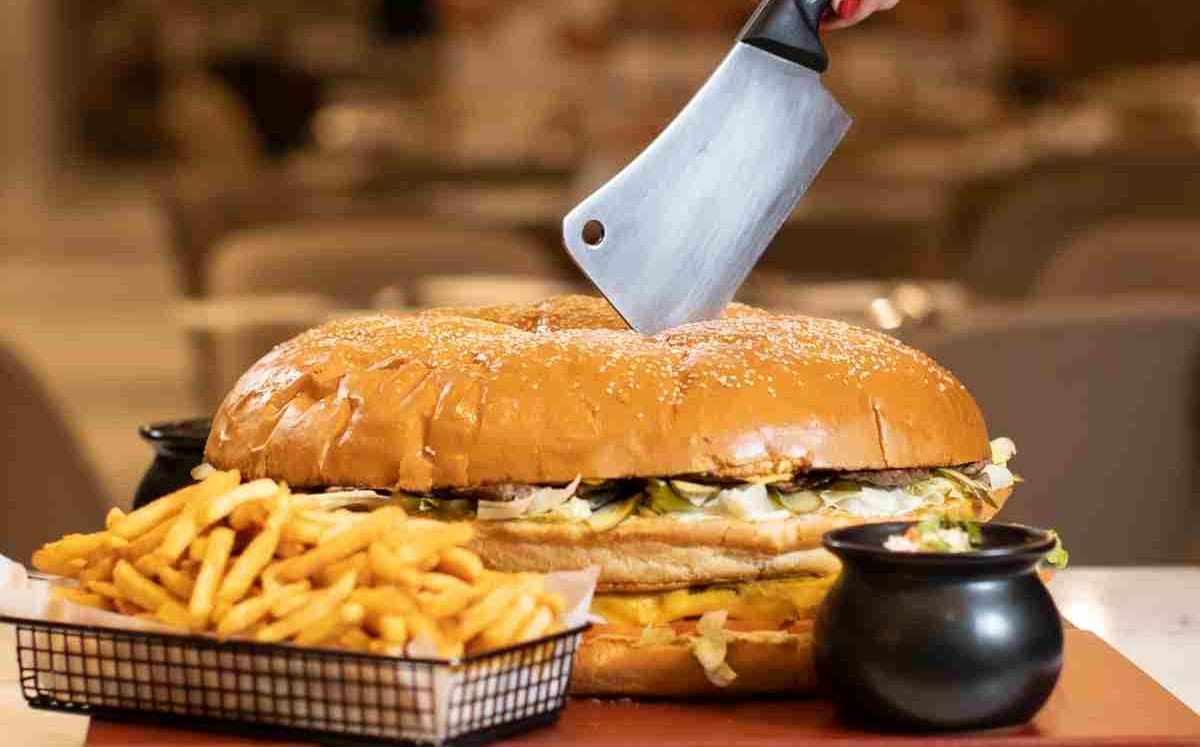 |
2
min read
The Biggest Burger in Dubai?
Introducing Monsta Burger: The Ultimate Foodie Adventure at Millennium Place Barsha Heights
The M One restaurant in Barsha Heights challenges food lovers to a 10 KG burger battle in one sitting!
Dubai: Get ready for the ultimate foodie adventure! Millennium Place Barsha Heights proudly presents the Monsta Burger- an epic feast that's as big as your appetite. Available every day from 12:00 PM to 10:00 PM.
Here's the deal: for just AED 799, you and your friends can dive into a colossal 10-kilogram Monsta Burger, plus 1 kilogram of fries and your favorite drinks. A meal designed to be shared with friends. Enjoy the juicy tender beef boasting the perfect blend of Angus beef, aged yellow cheddar cheese, and signature caramelized onion spread, tantalizing your taste buds with each bite. Marinated in spices and seasoned fries with creamy dips and refreshing drinks, the burger isn't just a Monsta, it's an explosion of flavor.
Just book 48 hours in advance, to get your massive meal ready, and if you and your four friends can devour this Monsta in one sitting, the entire meal is on the house!
Don't have a massive crew and up for a better challenge? Try our Jr. Monsta Burger, a 5-kilogram delight with fries and drinks, all for only AED 469. Finish it with a friend, and your meal is free!
"We're thrilled to relaunch the Monsta Burger experience," commented Glenn Nobbs, the General Manager of Millennium Place Barsha Heights. "Dubai is known to have the biggest & the best… we have the World's Tallest Tower and the Largest Man-made Marina, so why not one of the biggest burgers for the biggest appetites in town? And they're not just burgers; they are a delicious feast to enjoy with friends and a challenge all at once. Foodies all over the UAE will get a thrill from the experience and enjoy the incredible flavors. Plus, it's free if you complete the challenge which would be an amazing feat!"
The M One Restaurant in Millennium Place Barsha Heights is your go-to spot for incredible food experiences like this one. Whether taking on the colossal Jr. Monsta, the Monsta Burger Challenge, or opting for one of the flavourful buffet theme nights any day of the week, it's all about enjoying fantastic food with great friends.
To book (48 hours in advance), please email [email protected] or call +971 58 606 0831.
---