Mahzooz Draw with a new structure: 116,022 winners takes AED 1,727,850
Mon 02 Oct 2023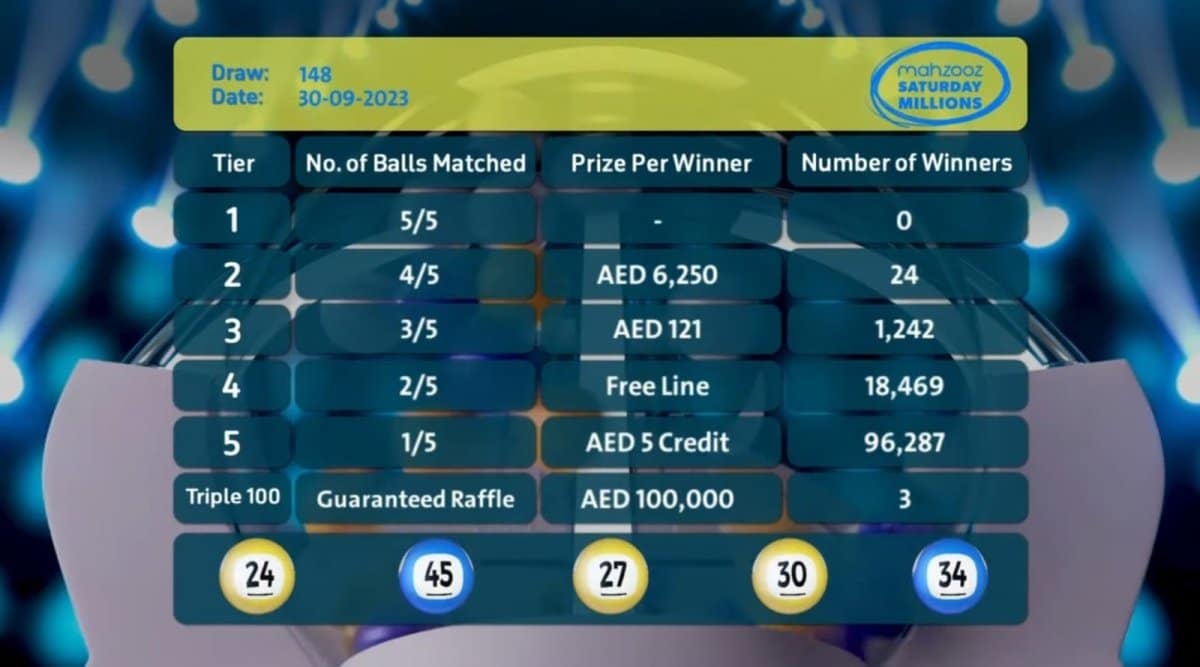 |
2
min read
Lucky numbers were 24,27,30,34,45
116,022 winners took home a total of AED 1,727,850.
Draws awarded AED 300,000 to three raffle draw winners.
Dubai: Following the recent prize structure change aiming at multiplying the number of winners, Mahzooz Saturday Millions, the UAE's leading weekly draw with the biggest and most frequent pay-outs, stood true to its promise at the 148th draws and awarded 116,022 winners a total prize of AED 1,727,850.
Embracing the new prize structure designed to maximize winnability, Mahzooz Saturday Millions lived up to its reputation as the leader in generous weekly payouts. While the top prize of AED 20,000,000 went unclaimed this week, 116,022 winners scored a victory as follows:
2nd prize: 24 winners matched 4 of 5 numbers and shared the second prize of AED 150,000, earning AED 6,250 each.
3rd prize: 1,242 winners matched 3 out of 5 numbers and shared the second prize of AED 150,000, earning AED 121 each.
4th prize: 18,469 winners matched 2 out of 5 numbers and earned a free Mahzooz line worth AED 35 (total: AED 646,415)
5th prize: 96,287 winners matched 1 out of 5 numbers and earned AED 5 each, (total: AED 481,435)
As part of Mahzooz Saturday Millions' newest prize structure, where 3 lucky participants win the Triple 100 GUARANTEED raffle prize of AED 300,000, the 148th draws awarded the holders of ID 38755240, ID 38813912 and ID 38629749 AED 100,000 each.
In Case You Missed: Mahzooz announces a new prize structure, increasing the chances of winning for all
For only AED 35, participants can purchase a bottle of Mahzooz Saturday Millions water and enter the weekly draws consisting of the Grand Draw, for a chance to win the top prizeof AED 20,000,000, the second prize of 150,000, the third prize of AED 150,000, the fourth prize of free Mahzooz line worth AED 35 and the fifth prize of AED 5, as well as the Triple 100 weekly raffle draw, which will grant AED 100,000every week to three GUARANTEED raffle winners.
Mahzooz, which means 'lucky' in Arabic offers participants a life-changing opportunity to win millions every week. Mahzooz is dedicated to changing people's lives through its weekly prizes and its commitment to giving back to the community.
---