Five reasons why International Indian Film Academy Awards-IIFA is coming back to Abu Dhabi in consecutive years.
Tue 23 May 2023
|
6
min read
Abu Dhabi: IIFA 2023 is back and bringing together the very best of the Indian cinema and film fraternity in its 23rd edition of the biggest celebration of Indian cinema on 26 and 27 May 2023. It was quite a surprise for Bollywood lovers as the 22nd edition of IIFA was just over in June 2022 at the same venue (Etihad Arena, Yas Island in Abu Dhabi) and IIFA has a track record of not repeating the venue in consecutive years.  
We talked with Andre Timmins, Co-Founder/ Director of IIFA to know the story behind this new shift in policy of the International Indian Film Academy Awards.
Q- We have seen in the past IIFA never repeats its venue, this is the first time IIFA is repeating its venue in consecutive years, which is a new shift in your policy, can you give us five reasons why Abu Dhabi again?
Andre Timmins – See, we have been trying and discussing for the last seven years to come to Abu Dhabi, every time we discussed things didn't move. In 2022 just after COVID, we were looking somewhere closer and we found Abu Dhabi was working a lot with the film industry, whether they were shootings rebates, co-productions, and other supports, so we thought that by bringing something like this, it will also enhance the business side of it. And when we came to Abu Dhabi, we completed our show.
Last year during the 22nd edition, when we finished IIFA Rock, the leadership said, listen, we wanted IIFA to stay five years in Abu Dhabi. We said thank you so much, and we were humbled. But as per our format, we must travel. Our whole concept was to travel to various destinations. So why don't we come back after two years? And they said, no, you must come back in 2023 and after we finished the awards night, we said to them -okay we will be back in 2023.
Reasons why we are back:
Government support: In Abu Dhabi, the Etihad Arena, and the government, bring in so many shows for example, they bring in Maroon Five, Coldplay, Lion King, and NBA but the kind of Indian event which brings eyeballs, tourists, business, and opportunity for support activities is IIFA. As they were insisting and it was our commitment to come back, we thought it is a good time to touch the Abu Dhabi market again.
Great South Asian Diaspora: see everybody is very familiar with our Bollywood talent in the middle east, we don't need to introduce them to the Middle East or to Abu Dhabi at any level. With more than 5 million South Asian diasporas, we never saw that type of excitement and craziness among the fans in the past. With IIFA as Indians, we feel proud because they really love the spectacular. They love the fact that we put in 100% to make the show, probably, I think for at that arena is one of the best shows that they've seen to date.
Connectivity from India to UAE: Only from Mumbai,we have more than 150 flights to UAE, which is a blessing for any event organizer. We are bringing more than 70 Bollywood celebrities including 20 A listers stars. You can imagine how challenging it was to bring them on the same date. Thanks to multiple flights and massive frequencies that makes our job easy. It is not only for celebrities, even the media, fans, and bloggers, who are joining us from different parts of the world are appreciating this venue because of connectivity and cost too.
Future Opportunities:  Hats off to the leadership in the Abu Dhabi Government, Miral Abu Dhabi, Abu Dhabi Department of Culture and Tourism, Abu Dhabi tourism board, and twofour54, as they believed that IIFA is something that's going to bring value. We feel happy because they're looking at our film industry in terms of building business, building shooting, they're building studios now. 10 stage studios are going to start in about 18 months. They are beautiful and great for us. Authorities are supporting companies coming down and setting up offices here. We're looking as we're doing something with Kabir Khan, where we'll be probably shooting the first local series with all local people there. There are a lot of discussions happening, there are lots of things happening there and in the future, many more India debates will be coming there along with what we want to bring there with unique projects and events.
Familiar Venue for Stars: UAE has a full-year inventory with Bollywood stars. Even the newcomers are quite familiar with the country and venue. With IIFA Salman Khan is also a major attraction, who is a brand ambassador with multiple entities in UAE. Salman is a great believer in what we do, and he goes all out to take the intense film industry flag high. IIFA is not just about performance, it's about bringing the film industry down, it's like Bollywood descends in Abu Dhabi and shows the magic of what we do, off-screen.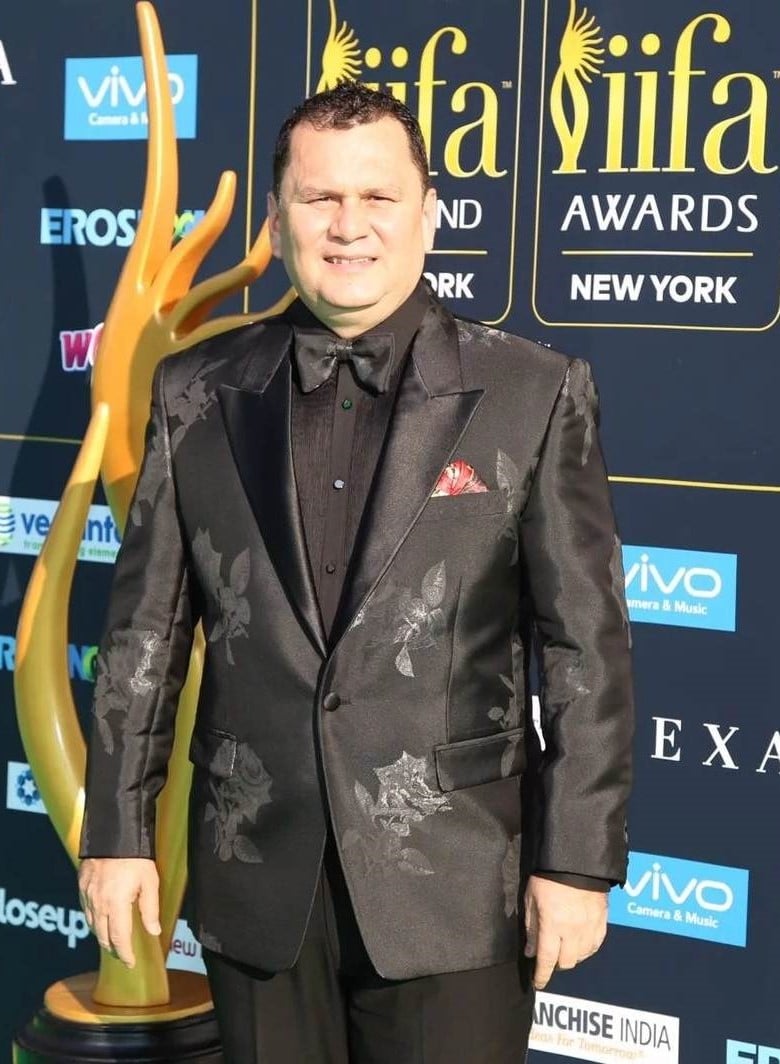 "The idea behind IIFA is how we collaborate and bring cultures together"
"Yes, we never repeated the venue in the past. We repeated South Africa and Macau but on a gap of 4-5 years. This is the first time and first venue, where we are going back-to-back"
– Andre Timmins, Co-Founder/ Director of IIFA
Q- What Special is going to happen in the 23rd edition of IIFA?
Andre Timmins – There's nothing, there's nothing better than live events. There's nothing better than seeing your stars up and close. There's nothing better than doing world-class production.
So, if I must tell you what's new, is that first, we've got Abhishek Bachchan and Vicky Kaushal with Salman Khan, Varun Dhawan, Kriti Sanon, Nora Fatehi, Jacqueline and Rakul Preet Singh. But what is going to be different? Raj Kumar is cohosting; Alia is doing something. Right. The whole idea here is what you're going to see differently within the content. Some performances are based on the black and white era, some are recreating retro, and the differences going to come in the scripting, overall look, and feel of the place. The audience is going to get something ultimate. There are going to be a lot of collaborations among artists.
With regards to IIFA Rocks. We've got Badshah, performing with Jacqueline, Rakul Preet, Mrinal Thakur, Nucleya, and Sunidhi Chauhan performing in Rocks. Amit Trivedi is creating something for IIFA only. We are honoring Kamal Hassan for his outstanding achievements in cinema.
Q- How IIFA is different from other film awards?
Andre Timmins – IIFA is not just about awards, it's about sustainability. It's about women's empowerment, It's about master classes, It's about design elements. So, the idea here is not just about social media and people coming there and having a good time. The idea behind IIFA is how do we collaborate? How do we bring cultures together? And how do we make a mark in the Middle East, even we are from India, we can do international shows. The reason we stayed back was because of the love, respect, and excitement. So, we feel happy that we could do something with regard to India and Abu Dhabi in terms of relationship, business, and culture so that we can have made a small mark.
Also, IIFA is not only about entertainment shows, but we are also conducting fashion shows with Manish Malhotra. There are master classes with Umang Kumar, Kabir Khan, and Nabila.
Q- How is the feedback from fans for the upcoming IIFA on 26th and 27th May?
Andre Timmins – So from a fan point of view, just look at the numbers, I think for the awards, we've got about 500 tickets to sell, right rocks have already sold out. Right. So, we're looking at both shows with about 25,000 people. I think from the fan perspective, of course, there are a lot of other spectacular things in line apart from the main event. Fans are excited to see many new stars this year, who were not present in the last edition, like Varun, Madhvan, Anil Kapoor, Hrithik Roshan, Mouni Roy, and many others. We want people to come in and enjoy themselves. You know, so that's the whole approach.
Q- You are a torchbearer for the events industry, especially in the entertainment sector. How you are seeing the growth of the middle east as a leader for entertainment events, especially the growth of Saudi Arab?
Andre Timmins – I am totally in agreement with the strategy of the Abu Dhabi leadership. They support us in terms of cost and bringing events. How do I get people used to come to my city because what they're building out there is that it's not about the city, some of the rooms, food, and drinks, when 25000 people descend on this week on weekend, you can imagine the business. What Abu Dhabi is doing and that's what I feel Abu Dhabi is on the right track to bring in international talent and Indian talent. I don't know much about Saudi, but yes Salman did his show there, Red Sea Film Festival happened at a grand level. Maybe in the coming years, that could be our next venue.
---