ZEE5 Global announces its next direct-to-digital film 'Kadak Singh' starring Pankaj Tripathi
Sat 11 Nov 2023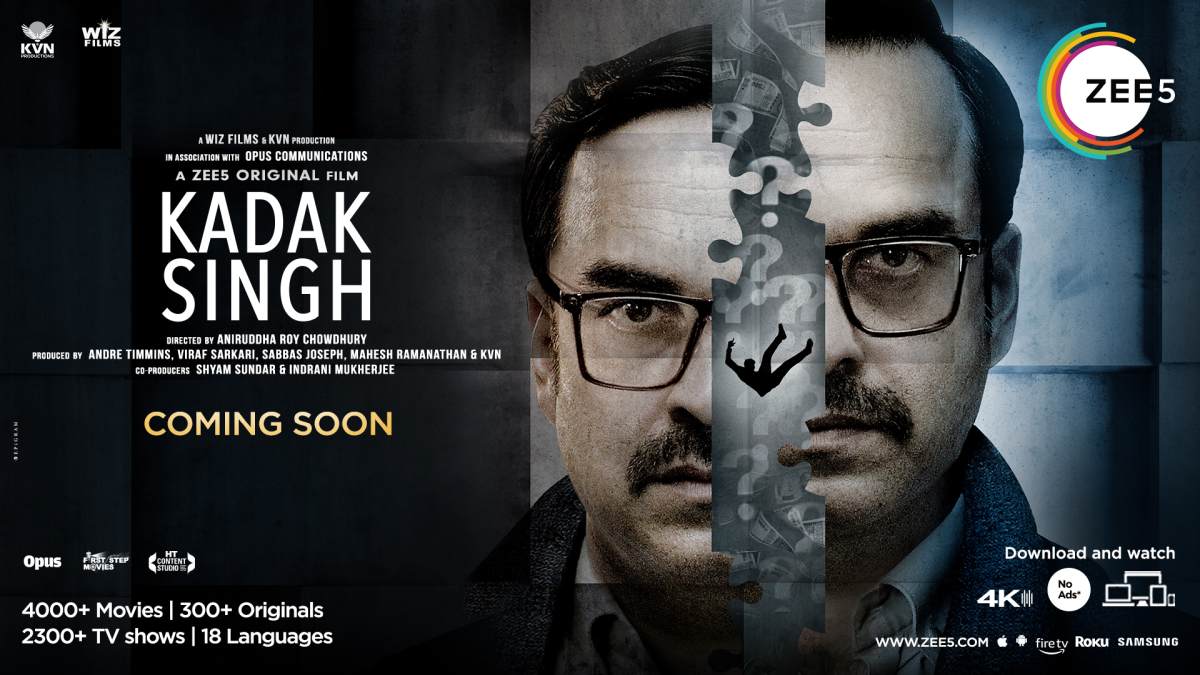 |
3
min read
~ A Wiz Films and KVN Production in association with Opus Communications, Kadak Singh is directed by Aniruddha Roy Chowdhury ~
Dubai: ZEE5 Global, the world's largest streaming platform for South Asian content, announced its next direct-to-digital film, Kadak Singh. This will mark the second collaboration between national award-winning director, Aniruddha Roy Chowdhury and ZEE5 Global after the success of Yami Gautam starrer 'Lost' and the third direct-to-digital collaboration between national award-winning actor, Pankaj Tripathi and ZEE5 Global after the success of 'Yours Truly' and 'Kaagaz'. Produced by Wiz Films (Andre Timmins, Viraf Sarkari & Sabbas Joseph), HT Content Studio (Mahesh Ramanathan), and KVN and co-produced by Shyam Sunder and Indrani Mukherjee, Kadak Singh also stars Sanjana Sanghi, Jaya Ahsan, Parvathy Thiruvothu, Dilip Shankar, Paresh Pahuja and Varun Buddhadev in prominent roles and is set to premiere on ZEE5 Global later this year.
Kadak Singh is an engaging thriller filled with mystery and suspense. The movie follows the perplexing journey of AK Shrivastav (Pankaj Tripathi) as he battles retrograde amnesia, uncovering a web of conflicting narratives from his past. Amidst the process of piecing together his life, the film delves into his quest to expose the truth behind a significant financial crime.
Pankaj Tripathi going live on Instagram two days ago and seeming a little lost and confused and ending the live abruptly, leaving people perplexed now makes sense as he seems to be playing out his character suffering from retrograde amnesia live for his virtual audience, giving them a sneak-peek into his character. The direct-to-digital film, Kadak Singh is set to premiere on ZEE5 Global later this year.
Archana Anand, Chief Business Officer, ZEE5 Global said, "We are proud to unveil 'Kadak Singh,' our latest direct-to-digital release. We've delivered outstanding original content this year, earning the love of global audiences and are pleased to bring this film which marks our third collaboration with the phenomenal Pankaj Tripathi. We have full confidence that viewers will find 'Kadak Singh,'a film well worth watching."
Viraf Sarkari, Director Wiz Films and Producer of Kadak Singh said,"It's been 12 years since I first thought of this story & started developing this film. I am so happy to finally realise this dream. We have done our best to put the best team of actors, director & crew to be a part of this film. On behalf of Wiz Films & my partners Andre Timmins& Sabbas Joseph I'd like to thank our Director Annirudha Roy Chowdhury, our producers KVN & Suprith, HT Content Studio's Mahesh Ramanathan, & our co producers Shyam Sunder & Indrani Mukherjee, our writer Ritesh Shah and Music Director Shantanu Moitra for their love & support. Hope the audiences enjoy watching this film as much as we all did while making it".
Director, Aniruddha Roy Chowdhury said, "Kadak Singh is a special film and talks about the responsibility of one government official towards the common people. Pankaj Tripathi and Sanjana Sanghi have done a fabulous job at portraying this complex father daughter story. Infact, I was in a paradise full of great actors including Parvathy and Jaya Ahsan and collaborators where each one of them has really pushed the boundary to deliver a terrific thriller. The highlight of this film is that it has relationships in different forms and how these relationships provide different perspectives and help the story move forward. It is also about a dysfunctional family coming on their own and becoming functional after a series of events leading to a rollercoaster of emotions. I hope that the film enriches people as it is a commentary on the society, and I am looking forward to another successful collaboration with ZEE5 Global".
Viewers can catch ZEE5 Global's unmissable slate and stock up on their yearlong entertainment by subscribing to the Annual pack and grabbing the limited-time special offer price.
Stay tuned for the trailer of 'Kadak Singh' exclusively on ZEE5 Global!
---