"Five Nights At Freddy's" takes UAE by storm: A glimpse into its popularity and fan reception
Mon 06 Nov 2023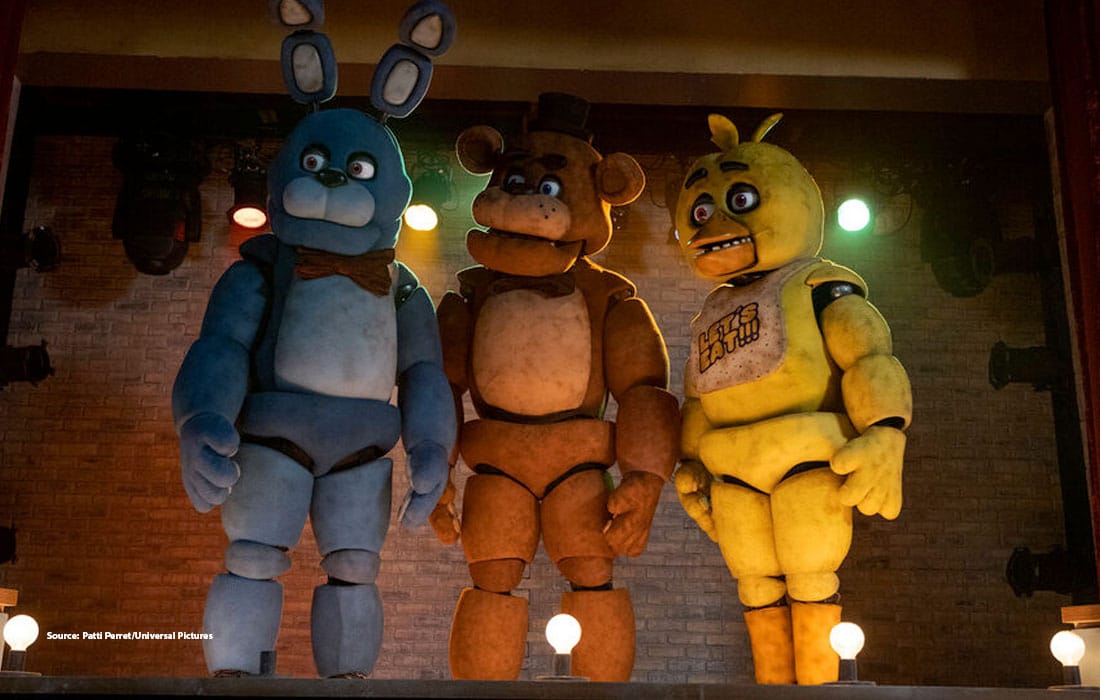 |
2
min read
"Five Nights At Freddy's," the eagerly anticipated movie adaptation of the iconic video game series, has finally made its way to the United Arab Emirates. Released in the UAE to an enthusiastic audience, the film has already garnered significant attention, both from fans of the franchise and newcomers to the eerie world of animatronic horror.
The movie's arrival in the UAE marks a significant milestone for fans who have followed the game's spine-tingling narrative for years. But what is it about "Five Nights At Freddy's" that has generated such a massive following and anticipation for its movie adaptation?
The Game that Started It All:
"Five Nights At Freddy's" began as an indie video game series created by Scott Cawthon. It quickly gained notoriety for its unique blend of jump scares, psychological horror, and an intriguing backstory. Players take on the role of a security guard at Freddy Fazbear's Pizza, a seemingly innocent family restaurant with a dark and disturbing secret. The goal? Survive a series of night shifts while being hunted by malevolent animatronic characters.
Horror and Intrigue:
The game's distinctive horror elements have resonated with players and fans of the horror genre. The tension of trying to survive the night against increasingly aggressive animatronics has been a driving force behind its popularity. The game's cryptic lore and hidden storylines have also captivated players, encouraging them to delve deeper into the mysteries of the Freddy Fazbear universe.
The Movie's Arrival:
With the movie's release in the UAE, fans have been eager to experience their favorite horror game on the big screen. The transition from a video game to a cinematic experience has been a highly anticipated one, and fans are flocking to theaters to see how the story unfolds in this new medium.
Popularity Beyond Gamers:
The appeal of "Five Nights At Freddy's" extends beyond gamers. Its unique brand of horror and storytelling has attracted a diverse audience, making it a cultural phenomenon. The movie's release in the UAE is a testament to its widespread appeal.
As "Five Nights At Freddy's" continues to captivate audiences in the UAE, it's clear that the franchise's enduring popularity shows no signs of waning. Whether you're a die-hard fan or a newcomer to the world of animatronic horror, this movie promises to be a thrilling cinematic experience that brings the game's unsettling atmosphere to life.
"Five Nights At Freddy's" takes UAE by storm is an article about "Five Nights At Freddy's" takes UAE by storm. #FiveNightsAtFreddy's #UAEmovierelease #fanreception #horrorgame #animatronichorror #gameadaptation #FreddyFazbear'sPizza #psychologicalhorror #ScottCawthon #jumpscares #horrorgenre #cinematicexperience #videogameseries #gamingphenomenon #culturalappeal #crypticlore #movieadaptation
---