Video: How a food delivery man helps a family with three kids in Dubai
Sun 12 Sep 2021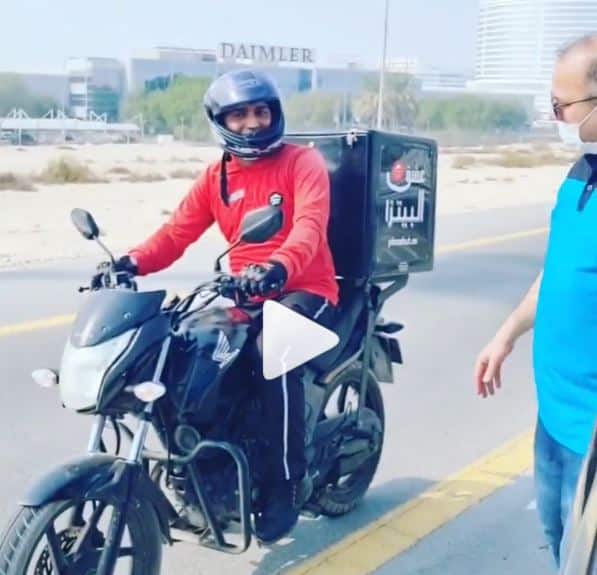 |
2
min read
In the afternoon the mercury rises in the sky. Get your car's fuel sensor deceived on a deserted road in the outskirts of Dubai. It is seen in the display that now the car can run 50 km more. But what if the car stops in the middle of the road due to no petrol? That too when three children are also present in the car. In such a situation, if you are tired of calling the recovery service again and again, then you have lost.
Something similar happened with the family of blogger Aamna Irfan @uaefamily_explorers. His car got derailed on the highway near Jebel Ali Free Zone. On a hot afternoon, Aamna and her husband were thinking about what to do when a motorbike stopped near their car. This bike belonged to food delivery man Tariq Jamal from PizzaHut. Tariq asked about his problem. Tariq again said- "Wait, I will bring you petrol." When Aamna's husband wanted to give money to Tariq, Tariq said that "I should first bring petrol, then whatever is his bill, he will give it to me."
Aamna uploaded the video of the incident on her Instagram. Also wrote that "It was very touching. We were lucky, traveling with the kids, and it was very inspiring that this happened to us today. The less we thank you, the less you will be happy. "
According to Aamna Irfan, Tariq did not even care about the delivery of his food order and first thought of helping the family in trouble.
Aamna is a housewife and has been living in Dubai since 2004. Aamna of Pakistani origin lives in the Muhaisna area of Dubai with her husband and three children.
This video has become a topic of discussion on social media. Users are appreciating that Tariq extended his helping hand to unknown people when they desperately needed it, humanity is still alive.
Source-Instagram
---