Tide gives NASA a hand to clean dirty laundry in space
Thu 24 Jun 2021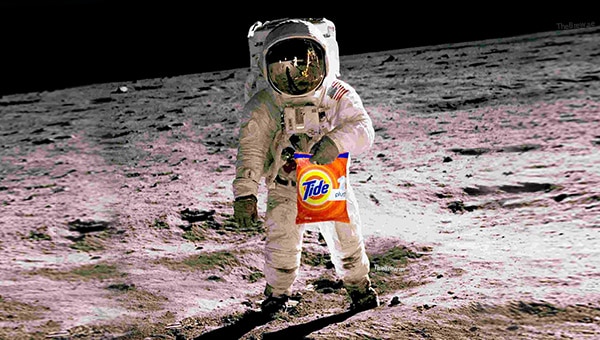 |
2
min read
As luck would have it, it will soon be possible for astronauts to wash their clothes in space. Tide® has joined hands with NASA to develop unique laundry detergent solutions to be used by astronauts in space.
According to research, astronauts cannot carry loads of clothes for their prolonged stay in space. Since water is limited, astronauts must either reuse their clothes multiple times (Can you smell in space?), wait for the next supply of fresh laundry or simply burn their old pair as space waste.
Since astronauts are allowed to carry a limited amount of clothes and water, these are the only available options. Every set of thread packed increases the burden on the US taxpayer since every pound of weight costs around $10,000! While travelling for a vacation, we can cheat and fit a couple of extra t-shirts or even a casual jacket, but life for astronauts is not that simple.
According to Proctor & Gamble, the company that makes Tide detergents, NASA has agreed to test and study Tide cleaning solutions in space. The stain removal ingredients and performance will be tested on board the ISS through experiments with Tide To Go Wipes and Tide To Go Pens.
Dr. Michael Roberts, Acting Chief Scientist for the ISS National Lab, said, "Through private-sector utilization of the space station, companies like P&G can conduct investigations in ways not possible on Earth to develop new consumer products, enhance existing products, and better understand processes that further business models both on the ground and in low Earth orbit. We look forward to this first investigation of Tide in Space and hope that many more will soon follow."
Another compelling application presents itself for the 'NASA Tide' – for a crewed Mars mission. Future trips to and from Mars are expected to last many years, necessitating washing systems built for harsh space-based settings and different gravity levels.
Aga Orlik, Senior Vice President, P&G North America Fabric Care, explained that the partnership was created to rethink cleaning solution, developing a low-resource-use laundry solution for everyday use while meeting consumer demand for more sustainable products.
To check out more information on Tide's overarching sustainability ambitions, please see here.
---