Follow-Up: Elephant herd in China: Are they returning back home?
Wed 16 Jun 2021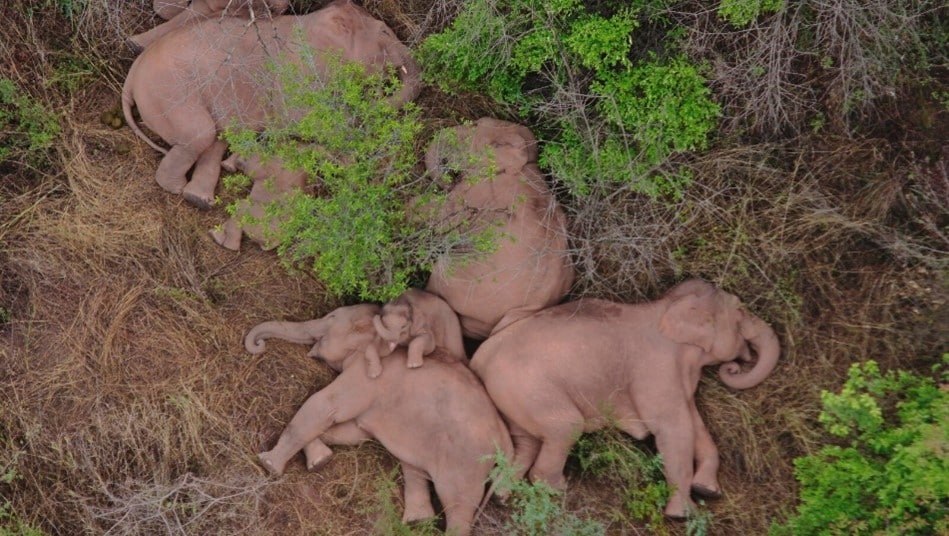 |
2
min read
China's famous gypsy elephants are on the move again, heading southwest back home in Yunnan apparently feeling homesick after their adventurous journey of 500km to the north.
It is not unusual to come across elephants in the forests but what would you do if you happen to find a herd strolling down the road? More than a year ago 16 Asian elephants from a wildlife reserve in the southwest of Yunnan province embarked on their trek. After a year, the herd had trekked 500 kilometers north to the outskirts of the provincial capital of Kunming.
Scientists and naturalists are dumbfounded and speculating on what would compel these gentle giants to do a Forrest-Gump in China. Evan Sun, wildlife campaign manager with World Animal Protection, said possible reasons could include lack of food supply, a rise in the elephant population, and most importantly, loss of habitat.
"The increase of human-elephant conflicts reflects the urgency for a more strategic policy and plan to protect these endangered wild animals and their natural habitats," explained Sun.
"This also poses a great opportunity to educate the public about the challenges that wild animals face for survival and the need for better protection from a government, industry, and society level," Sun wrote. "These animals belong in the wild. We need to keep a safe distance from them, which is good for us and the wild animals."
Not your usual herd of sheep or goats that you may encounter when traveling across the countryside, but it is not much you can do when 16 elephants suddenly decide to pack up and travel. The unusual movement of the herd was tracked by nine drones, emergency workers, and a task force of 360 people with 76 cars and the State TV. The authorities were sensitive to track their every move and to protect local residents. According to reports, 2.5 tons of food were laid out for the animals on Friday.
During this unusual trek, two male elephants had broken away from the herd, but one male is still keeping his distance in close vicinity, according to reports.
They created a trend-storm online with the hashtag #WhyElephantsTrekkingNorth after being spotted 3km away from Kunmig city in China. The herd became overnight darlings when netizens started to post a drone shot of them catching a few winks.
---