Dubai sky to light up with Perseid Meteor shower on August 12, 2021
Sun 08 Aug 2021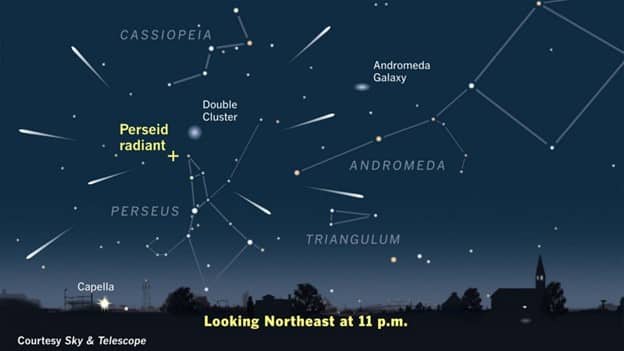 |
2
min read
The Perseids, one of the best meteor showers of the year is due on 12-13 August
Moonless Night will make the Perseids probably the best shower of the year
Stargazers and Skywatchers are going to get an amazing time this week when Perseid Meteor Shower will be on its peak on 12-13August Night for this year. The 2021 Perseid meteor shower will probably produce the greatest number of meteors on the night of August 12 and the morning of August 13. In a dark, moonless sky, this shower often produces 50-100 meteors per hour.
In the Northern Hemisphere, the annual August Perseid meteor shower probably ranks as the all-time favorite meteor shower of the year. This is an amazing opportunity for the families, to experience the amazing view in the sky.
Source of Perseid Meteor Shower: Made of tiny space debris from the comet Swift-Tuttle, the Perseids are named after the constellation Perseus. This is because the direction and radiant point, from which the shower seems to come in the sky lies in the same direction as Perseus.
The Perseids arise when Earth passes through the debris of Comet 109P/Swift-Tuttle, which was first discovered in 1862. The comet's last brush with the inner solar system occurred in 1992, leaving a dusty trail of debris that our planet passes through each summer. As this debris hits Earth's atmosphere, they burn up and create visible streaks in the sky.
How to See the Perseids: Dubai Astronomy Group CEO, Hasan Al Hariri said, people don't need any special equipment or a lot of skills to view a meteor shower. All you really need is a clear sky and a secluded viewing spot away from the city lights. Your eyes may take 5 to 10 minutes to get used to the dark. He said; Be comfortable and equipped with basic things because meteor watching can be a waiting game.
He added that this year the moon will set around 9:45 pm and night will be an ideal condition for a meteor shower show. This is very favorable for sky waters and hopes that it will make the Perseids probably the best shower of 2021. The Perseids are rich in fireballs, so the show should be even better.
Where to Watch the Perseids Meteor Shower:
Dubai Astronomy Group is organizing a Perseid Meteor Shower Party on the night of the 12th of August till the early morning hours at the top of the highest peak in the UAE, Jebel Jais, Ras Al-Khaimah, an ideal place for a meteor show. The event will also provide an opportunity to look through telescopes at other celestial objects like Jupiter and Saturn. The event will also feature a presentation, astrophotography, and mobile photography training session, Talk & Q&A Session.
Mleiha Archaeology Center, Sharjah is also organizing a magical evening out in the Mleiha desert on 12th August, to observe the Perseid Meteor Shower. That evening will also include moon and planets observation, a presentation on the Perseid meteor shower, and a delicious meal. 
---