Dad, please uninstall your WhatsApp. A Covid positive doctor's letter to her parents in India.
Thu 22 Apr 2021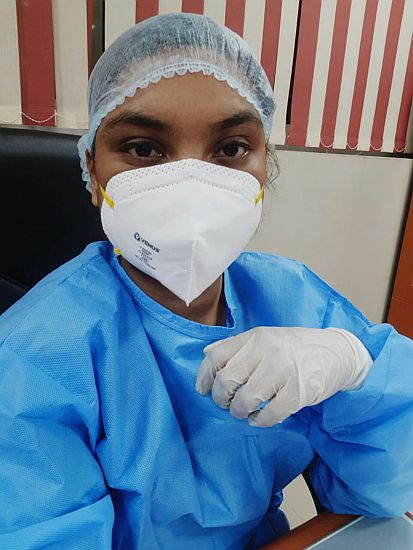 |
2
min read
When 2020 was started, many young medicos were entering this sector with the new mission, hope, and energy. Suddenly Covid-19 knocked and badged them with a corona worrier tag. Forced them to encounter the worst phase of any medical professional on their first step.
Dr. Adeeba Khan, a duty officer at SGPGI, Lucknow, and her colleagues have also tested positive. Today is her 11th day in isolation. As Lucknow city is among the hot spots in the second wave of Covid in India and a big number of medical professionals are tested positive during their duty.
Dr. Adeeba wrote a letter to her old age parents, which is advisable to all. She is advising her parents not only about the precautions only but to avoid WhatsApp, News Channels, misinformation, and talking about mental health too.    
Dear Dad,
We all are passing through a very tough time again, a rather tougher time. Still the scientists, the doctors are studying the new variant. Presently it's all guesses. Nobody knows how these new variants will play with the human body. Medicos are working under pressure doubly redoubled. Scarcity of beds, oxygen, and medicines are felt badly. The reason is the speed of the spread of infection and our unpreparedness and awareness. This has caused panic.
This is still a fact that 85 % of the Covid cases are treated away with normal medicines for cold and fever. Moreover, efforts, studies, and researches are on to know the effect and behavior of the new variants. There is all hope that we will win the war against Covid.
I request you (mom also) to stop stepping out from home and send the maids and other servants on a paid holiday. Follow the Covid Guidelines (mask etc.) and take healthy food. Everything hot or warm, nothing cold.
Uninstall your WhatsApp for few months as most of the forwards, which we read are baseless and the information's are wrong. You know enough about Corona and if you need to know more call your Doctor. Avoid social media and shitty news channels.
As we know very little about the variants, it is better than staying at home. We have to raise our spiritual, emotional, physical, and energy levels. Exercises and healthy dietary habits are very important. It's Immunity that matters. So Strengthen immunity. Let us keep everyone in our prayers.
Very soon we will be VICTORIOUS
-Dr. Adeeba Khan
Disclaimer: All views and opinions expressed in the above letter – are those of the authors and do not necessarily reflect the official policy or position of TheBrew.ae, the company, or any of its members.
---