Astrum Wireless Headset HT380: Ergonomic Design, Alloy Touch with High-End Audio Performance
Wed 08 Mar 2023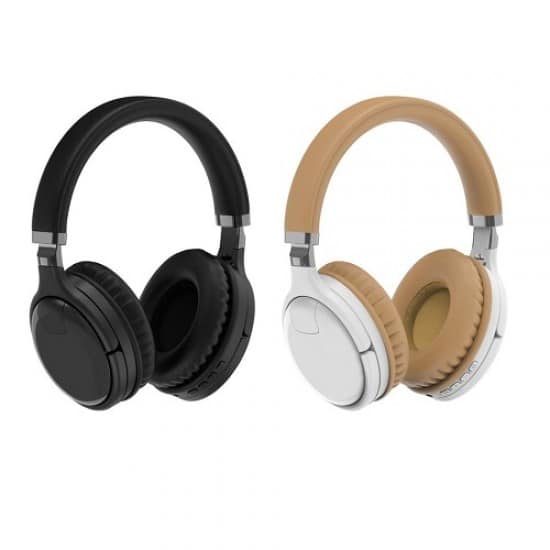 |
3
min read
The Astrum Wireless Headset HT380 is a great choice for those looking for a pair of quality wireless headphones. It offers high-end audio performance, impressive power, and a lightweight design. With its advanced features and magnetic design, this headset provides an optimal listening experience.
The Astrum HT380 showcases powerful sound, crystal clear audio output, and perfect bass response. Its advanced technology ensures exceptional sound quality even in noisy environments. You can also adjust the levels of your music to your personal preference thanks to its customizable equalizer built-in feature. Additionally, the battery life is quite impressive and will provide you with up to 10 hours of lasting music enjoyment for a full charge. Its lightweight build and comfortable design make it ideal for long listening sessions without causing discomfort or fatigue to your head or ears.
The Astrum Wireless Headset HT380 features an ergonomic design, the headset offers superior power output, an adjustable headband, and lightweight earcups. With up to 10 hours of battery life and dynamic 40mm Drive Units all packed into a durable aluminum alloy housing, this headset is perfect for providing excellent audio clarity in any environment.
The Astrum Wireless Headset HT380 is one of the best options out there when it comes to quality headsets that offer great technical features without skimping on design and comfort. Astrum wireless headset HT380 is the perfect blend of technology, quality, and design.
This review focuses on the technical specifications, advantages, disadvantages, and overall quality of this Astrum wireless headset HT380 that makes it stand out from its competitors. We will discuss its power efficiency, weight, design, sound quality, battery life, and magnetic features in an informative manner.
Technical Specifications:
Bluetooth: BT 5.0 for stable wireless connectivity
Play Time: Plays up to 10 hours
Charging time: up to 2 hours via micro-USB
Speaker Dimensions: 40mm
Range: 10m
Weight: 200g (approx.)
Dimensions: 200 x 170 x 75mm (L x W x H)
Features:
Available in two colors. Golden-White combination and Black.
Active digital noise canceling (ANC) headphones. HT380 is engineered with noise-isolating earcups that gently mold around your ears and a foldable headband that adjusts to fit the shape of your head offering you maximum comfort during long listening hours.
Due to its high-end 40mm stereo sound drivers which provide immersive Hi-fi deep bass giving you the pleasure of a wonderful, crisp, powerful sound that helps you enjoy your music with rich details and extraordinary clarity.
Built-in hidden mic for calls. HT380 is equipped with active noise canceling inbuilt microphone with high frequency helping you make and receive hands-free calls from your smart devices, it also supports multi-paring of two or more devices so you can connect devices to smartphones, tablets, laptop computers, TV, and more.
Foldable design for maximized portability.
Aux-in port for wired or wireless function. It comes with a 3.5mm Aux audio jack and cable giving you the option to listen wired or wirelessly.
What is in the Box:
1 x BT Wireless Headset
1 x Aux Cable
1 x USB Charging Cable
1 x User Manual
Also Read:
Where to buy: Astrum Wireless Earphones ET410: Designer, Stylist, Comfortable, Powerful & Budget Friendly
To buy or check out the entire Astrum product line visit – Sharaf DG or Amazon or Tradeling
Tradeling is MENA's dominant B2B marketplace. Tradeling partnered with Astrum, a leading Hong Kong-based technology manufacturer, and has expanded their partnership to offer Astrum products on their website in the UAE. Astrum products are high-quality tech devices with lower prices.
Note: Tradeling is a B2B marketplace and as a wholesaler, the prices on the Tradeling portal require a minimum order.
---