Namita's Natter // 8 ways in which COVID-19 has changed the way we travel forever
Wed 30 Sep 2020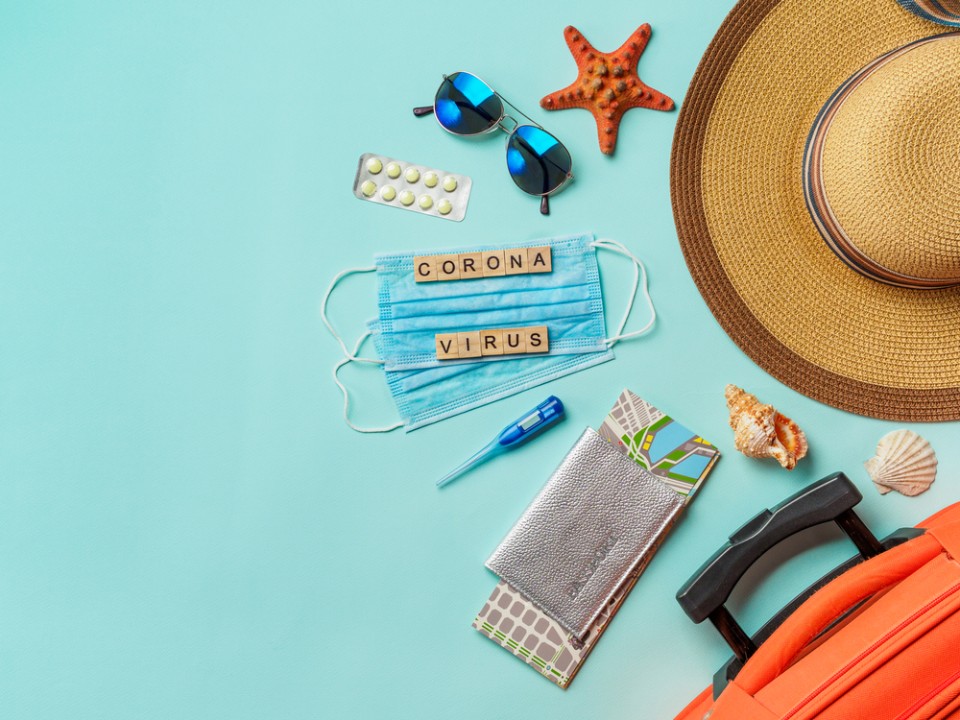 |
3
min read
"My passport is bored AF"
"Can't wait to walk down the (airplane) aisle again"
"Can we skip to the part where I can travel again?"
Yeah, we've all seen (and posted) the cheeky rants and statuses that constantly remind us how much we love to travel and how much 2020 has snatched from us heartlessly. Yeah, we can't wait to pack our bags, fixate on perfecting our 'airport look', and jet off across the globe. But one thing's for sure. The way we travel has changed and there's simply no going back.
The United Nations World Tourism Organisation has estimated that international tourism has fallen by 68% globally in 2020. This has led to a whopping loss of over $1 trillion in global tourism receipts. Europe has borne the brunt of revenue losses, with a steep decline of 46%. And that's just till August. With fever people opting for non-essential travel in the months ahead, these figures are going to be even more staggering by the time 2021 rolls around.
Losses in revenue mean a shrinking industry and serious downsizing. The World Travel And Tourism Council has noted 75 million job losses in the tourism industry, with a majority of them (30 million) in Asia. In fact, estimates suggest that by the time a vaccine is created and approved, 35% of the world's airlines and 50% of the world's cruise ship companies will have gone bankrupt.
How The Way We Travel Will Change
The pandemic has also brought into sharp focus concerns about safety and sanitation. And these factors are going to play a huge factor in the way we travel going forward.
Focus on domestic travel
With international borders sealed in places and strict quarantine rules, leisure travelers are shifting focus to domestic destinations with fewer hassles. Local tourism has started seeing a spike and this trend is only going to grow for the next few months.
Costlier flight tickets
Airlines are either allowing passengers on board with the middle seat empty, to stick to the norms of social distancing, or changing the seating plan to increase space between seats. Both these options mean fewer passengers per flight. So airlines will have no choice but to raise ticket prices to meet their costs.
Reduced travel taxes
There are many countries, such as Italy or Bangladesh, whose economies rely heavily on tourism. Such countries are likely to lower tourism taxes to revive their sorely-hit economies.
Increased flexibility
One of the (extremely) few pleasant side-effects of the coronavirus pandemic has been the acceptance of flexible travel. Hotels and even airlines are allowing passengers to book tickets and reschedule them without extra costs. Flexible travel plans are a welcome change and rigid booking schedules are a thing of the past.
Family Travel
Another notable impact of the COVID-19 pandemic has been the isolation it has highlighted. People have been forced to stay away from their loved ones for far too long. So family and group travel have seen a sudden jump ever since travel restrictions eased. Solo trips are no longer selling out like hotcakes.
The End Of Business Travel
The coronavirus pandemic has practically sounded a death bell for business travel. Webinars and video conferences have firmly edged out travel as the more efficient and cost-effective way to do long-distance business.
Comeback Of Road Trips
With more and more people hesitant to take public transport like a flight or a train, road trips are back on the rise. In fact, a new trend that has emerged is caravan-travel. With your own bed, washroom, and kitchen, your safety lies in your hands alone and that's part of the appeal.
Homestays Over Hotels
Another trend that's been seen is the preference of homestays and B&Bs over hotels. With fewer people around and more privacy to yourself, homestays definitely reduce the risk of infection and are thus, more in demand.
Things You May Not See At Hotels Anymore
Since fewer people are opting for hotels, the hotel industry is working overtime to lure back customers. And that means bidding goodbye to some staples.
Front Desk Check-Ins
Hotels are gradually switching over to mobile check-ins to reduce human contact
Key Cards
"Smart keys", that work like QR-code scanners are likely to replace key cards to access your room
Buffet Meals
One of the great attractions of a hotel-stay is its breakfast buffet. But numerous people touching the same serving utensils is a hygiene nightmare. So ala carte meals will be replacing buffets in the near future
Crowded Pools
Smaller pool-cabanas for individual families and groups will ensure better hygiene than open-to-all pools which are a hotbed of infections
In-Room Coffee Machines
Multiple guests touch the same coffee machine, making it a hotspot for germs of all kinds. So hotels are doing away with coffee machines and offering room service instead.
It is abundantly clear that the travel industry will never go back to what it was before 2020 (just like the rest of us). The colossal losses will take a huge time to recover from. But some of the forced changes are actually a step in the right direction and the sooner they're implemented, the better.
Now I'm going back to posting a photo of my last vacation with the caption "Travel must be a drug because I'm having major withdrawal symptoms."
————————————————————
Disclaimer: All views and opinions expressed in The Brew View – our opinion section – are those of the authors and do not necessarily reflect the official policy or position of TheBrew.ae, the company, or any of its members.
---