Wish UAE's astronaut luck in your native language for his upcoming mission
Tue 21 Feb 2023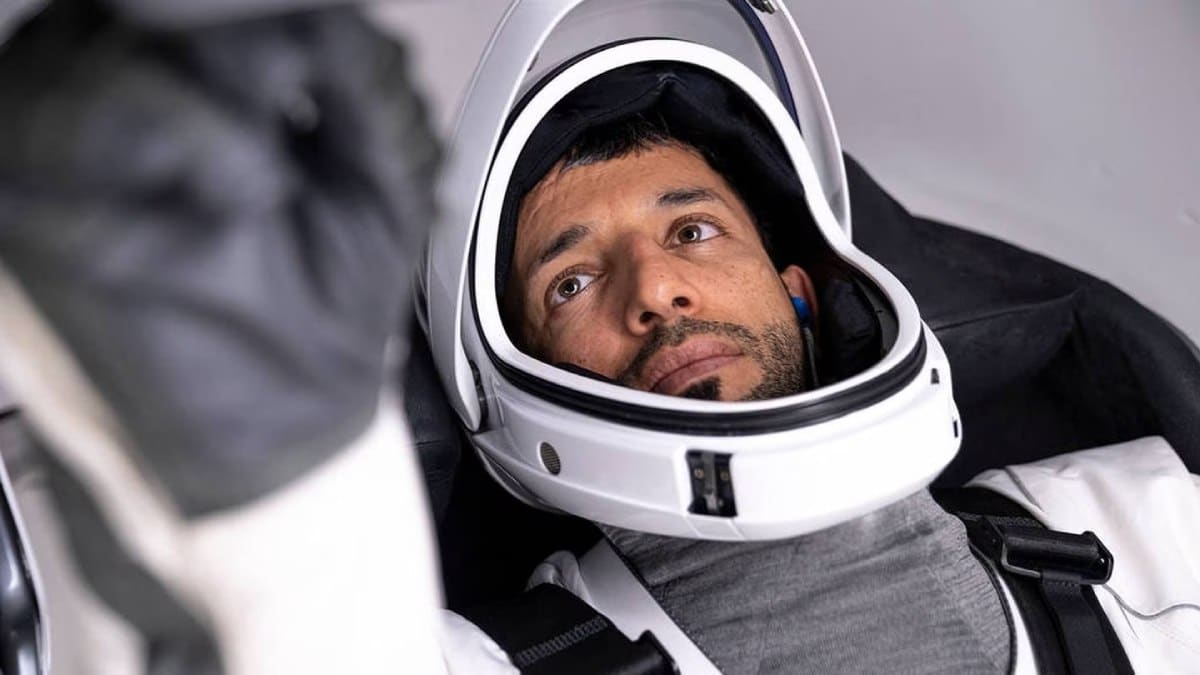 |
2
min read
UAE: Mohammed Bin Rashid Space Centre is offering you an exciting opportunity to record a message to astronaut Sultan AlNeyadi wishing him luck on his mission.
Comment below and share with us what message would you like to send astronaut Sultan AlNeyadi.
Also, read – UAE confirms the 1st Arab long-duration astronaut mission to launch on February 26
About Astronaut Programme
The UAE Astronaut Programme prepares Emirati astronauts for manned missions to the International Space Station (ISS) and other destinations in space. The first of its kind in the Arab world, the programme provides the necessary training, expertise, and qualification for Emirati cadres to represent the UAE, and the Arab world, in future space missions and to conduct scientific experiments that support the global space exploration process.
The UAE Astronaut Programme was initiated in April 2017 by H.H. Sheikh Mohamed bin Zayed Al Nahyan, President of the United Arab Emirates, and H.H. Sheikh Mohammed bin Rashid Al Maktoum, Vice President Prime Minister of the UAE and Ruler of Dubai, and, to prepare an Emirati astronaut corps for scientific space exploration missions, creating a culture of scientific endeavour and motivating the youth to pursue space science and technology.
The UAE Astronaut Programme is funded by the ICT Fund of the Telecommunications and Digital Government Regulatory Authority (TDRA).
The UAE Astronaut Programme aims to prepare cadres of astronauts according to the highest international standards.
Support the UAE's vision of a prosperous future based on knowledge and scientific research
Strengthen the UAE's position in the international space sector by contributing to manned space missions.
The UAE Astronaut Programme aims to develop a national scientific corps and prepare a national team of astronauts.
Encourage and inspire young generations to be successful in STEM subjects.
Contribute to scientific exploration missions by developing a corps of Emirati astronauts.
Promote a culture of research and passion for exploration and innovation.
About Mohammed Bin Rashid Space Centre
Established in 2006, the Mohammad Bin Rashid Space Centre (MBRSC) started out with five engineers, who took it upon themselves to develop their capabilities and expand their knowledge in the field of space, relying on strong will and solid determination. Since then, the centre has continued its journey to be the incubator of the "UAE National Space Programme". The MBRSC has undertaken the tasks of building, developing, and operating a number of Earth observation satellites, providing imaging services, analysing and studying them, as well as producing relevant data for scientific communities and research centres around the world. Among the satellites that the centre operates are DubaiSat-1 & DubaiSat-2. The MBRSC is also responsible for KhalifaSat, celebrated as the first satellite that was fully built by Emiratis in 2018. Recently, the centre revealed its plan to develop the new satellite MBZ-SAT, which is expected to be launched at the end of 2023 and to be the latest in the field of high-resolution imaging from outer space.
---