#World Environment Day: Green Humour- Sketching up a green revolution
Sat 05 Jun 2021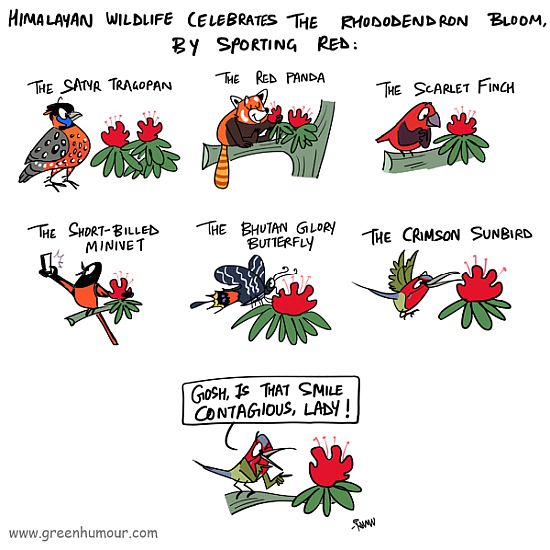 |
6
min read
People say laughter is the best medicine. If that's true, then that explains why the coronavirus hasn't left us alone yet. The world is changing; some changes for the best, some for the worst. But one thing that has remained the same for decades is the ability of humans to turn even the darkest situations into nothing more than laughable memes. The Brew feature editor Babar Siddiqui spoke to Rohan Chakravarty, a man who believes that there is always a funny side to even the most serious things in life. His response showed us that not everything is always as gloomy as Grumpy Cat portrays it to be.
Q: How did your journey of turning into a cartoonist start, and how did you relate that to the environment?
I haven't formally trained to be a cartoonist. By educational qualification, I'm a dentist. But mid-way through doing my degree, I realized it's not something I'm interested in. Though when that realization dawned on me, it was a little late. I had to complete my degree. So after I graduated, I never looked back at that phase of my life (which is why I don't add 'doctor' to my name).
I graduated in 2010, after which my focus was entirely on animation. I took a few months off, trained myself, and got a job in an animation studio in Bangalore. I've worked in the animation industry for 4 years and treated that as my day job while I focused on developing GREEN HUMOUR on the side. Not only did animation give me a day job and financial footing, but also the necessary skills to become a professional cartoonist. The principles of animation design are similar to that of cartooning.
As for wildlife, I've always had a very dominant interest in nature that got triggered into an active interest after I saw my first tigress at the Nagzira Tiger Reserve, way back in 2005. I got the idea to start drawing about nature and conservation because a lot of communication that was happening around these issues was not very engaging nor creative back then. There was a void and that's when I felt the need to fill it up. It took a lot of time to shape, and it was not until 2011 that I started getting published as a cartoonist. So it took a good 5 years to mold into.
Q: Do you publish in mainstream media magazines and such?
I publish with 3 newspapers, several magazines. I have an online column as well, and the universal press located in the USA also distributes me. And I'm also represented by cartoon stock, which is a cartoon service in the UK and USA.
This year World Environment Day is very special for me and I am delighted to unveil "Green Humour for a Greying Planet" a compilation of my cartoons and comics on wildlife, environment and nature conservation, published by Penguin India. Readers can book it from https://t.co/Oo3my5z0gQ?amp=1
Q: Do your cartoons focus only on wildlife or touch on general environment issues, as well?
My focus is wildlife and ecology. But I also tend to deviate from it when there is something political in terms of environmental happenings, or when there is news of national or international importance related to the environment. For example, something about the sustainable goals and the UN and such. I call my series pertaining to all things green. Though the core focus is on wildlife and pollution.
I work only in English, but I'm doing as many collaborations as I can with publishers and even other organizations that do publish my work in various other languages. So within India, a lot of my illustrations are getting published in various regional languages. Some of my comics also appear in a Hindi magazine. Internationally, I work with people in Spanish-speaking counties, in Chinese-speaking countries, and I also have an ongoing collaboration with a Turkish magazine. I have a page in a Turkish kids' magazine that translates my work and publishes it.
Q: How does your work reach the public if it's not going to various different regional languages?
I'm actively seeking collaborations with state forest departments and many other organizations so that I get a chance to create art in a language and sphere as regional as possible.
Q: From your point of view, where do you think the problem lies as to why people aren't connecting with global issues?
Traditionally speaking, I think the problem lies in the people who are involved with conservation, conservation biology conservation campaign, even policymaking. These kinds of people have been so preoccupied with the planning and implementation parts of it that they lack communication. A lot of the information on these matters that is communicated to laymen like us is not easy to decode and decipher. I think that is where the role of communicators comes in, communicators who are maybe journalists, or even creative communicators like me.
That is where this role comes in to simplify the jargon and present this information in a palatable and digestible manner. For example, I always use my father as a yardstick. My father is a businessman and loves reading newspapers, but he doesn't actively engage with environmental change because most of it only tends to be gloom and doom. Like how farmers are affected by climate change, crops are suffering, floods are coming. This is not the kind of news that somebody like him would like to engage with on a Sunday morning. So how do I make that bit of information interesting to somebody like him? I found that if I convert it into a visual that doesn't just deliver the information briefly, but evokes some kind of emotion (in my case that's laughter), the reader tends to not only retain the information but also respond to it. And once somebody responds to the information, even if it is internal, it stays with you for a longer time. That's why I think cartoons play a good part.
Q: How would you train the new generation to play a part in these changes?
I think cartoons are a small part of education as a whole. But as for education in terms of environment, there is no replacement for learning outdoors. What schools and the curriculums need to focus on is a more outdoor engagement of kids with nature. It is something that is being adopted by a lot of parallel education, but not mainstream education. For example, I have a friend in Tamil Nadu, who designs curriculums for schools, and he's focusing a lot more on outdoor education. In certain bits and pockets in India, there are new ways of educating kids and connecting them with nature that has been coming up. So yes, creative communication is a small part of it. But most of this kind of learning is going to happen outdoors if you're considering a parallel stream of education.
Q: Where did that spark come from that inspired you to gain an interest in nature?
I think a large part of it comes from my mother. She is no more, but she's had a long career. Around 2005, she was a journalist and had started working for an environmental magazine. She used to read a lot of research and text and wrote her articles for an environmental journal. I think discussions with her, and knowing more about her job might have also triggered my interest.
Q: What magazines do you contribute to?
I started with Sanctuary Asia, where I published my first comic. Then Savours took up my column. Now I publish with Round Glass and have a weekly column with them.
I recently did a project with A Purpose, which is an organization in Bombay, and we created a map of Bombay's biodiversity. After that map was released, a lot of celebrity engagement happened because these people live in Bombay so they could directly connect to it. So people like Puja Bhat and more were active in promoting that project.
Q: How will you guide the new generation should they want to join this?
The thing is, there is a lot of hard work and endurance and perseverance involved, but it's not that you can't make a living out of it. A lot of organizations, especially in the west, and some even in India, are offering grants for researchers and research projects, and these grants don't just pay for the project specifically. Some are also inclusive of salary and insurances. There are programs, there are grants, but of course, you have to be there for it in the long haul. You have to do a master's, get a PHDA, if it is a science that you're involved in. If it is from a more social angle that you're involved in, your organization has to have some kind of credibility on the ground and with the govt.
Especially with social media, the process of building a portfolio is a bit easier now compared to, say, ten years back. I think given that there are so many opportunities to win grants for the project that you can think of and imagine and implement, I think there are increasing prospects, too.
Q: Why did you select this particular style of illustration?
My influences were Garry Larson and Bill Watterson, but mainly Garry Larson. I think his style of humour – especially his use of dark humour – is something I can relate to. I don't think a lot of cartoonists were as brave as him to deviate from conventional humour and take risks for the fear of offending audiences. So that's something I like to do and challenge myself with. In terms of humour, it's always been, Garry Larson. In terms of the visual style of both my cartoons and illustrations, I think it's very heavily influenced by my history in animation. As an animator, I've always looked up to the work of one individual specifically – Genndy Tartakovsky. His visual style has been a very huge influence on me.
Readers can follow to Green Humor @ https://twitter.com/thetoonguy
Website: http://www.greenhumour.com/
---